Our Be More Starfish Situ roadshow in Bristol was a real hit. We got to share exciting Situ updates, have some great talks about ESG, and hand out well-deserved partner awards. But what made it truly special was connecting with our Bristol partners and everyone who made the trip to be with us.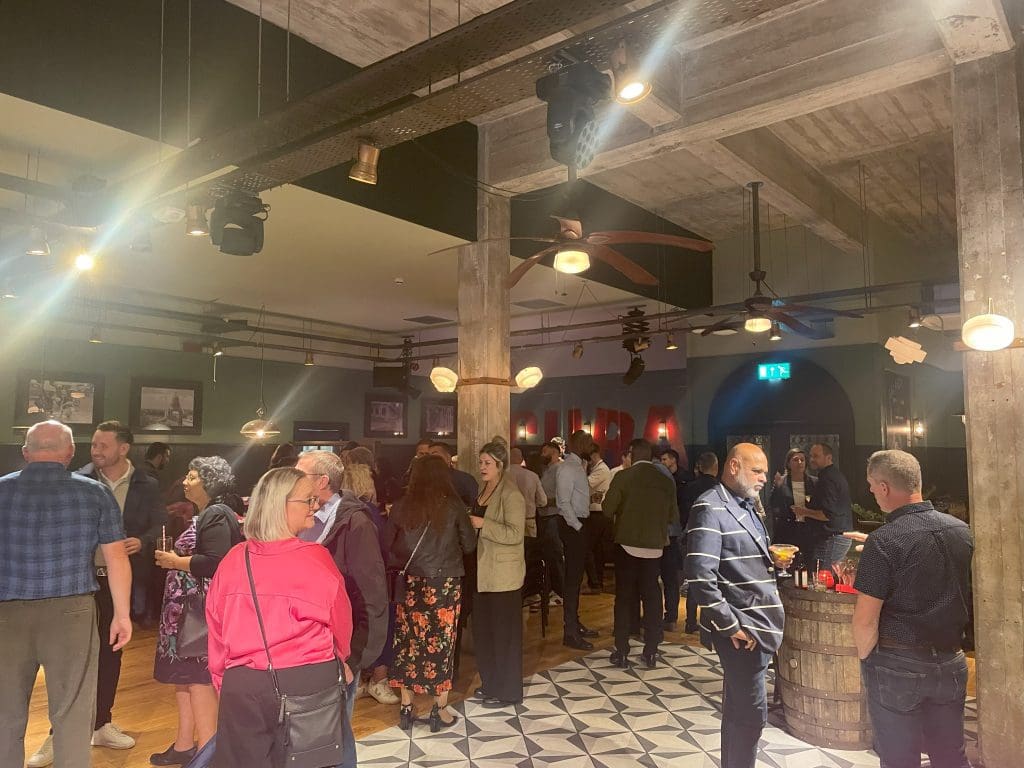 Be More Starfish litter-picking with the Big Tidy Bristol team
But before the roadshow… The Situ roadshow team arrived in Bristol in the morning to join a clean-up with the Big Tidy Bristol team. We collected 14 bags of waste around Prewett Street in Redcliffe. The bags included hard hats, floppy disks and a DVD copy of Eat Pray Love.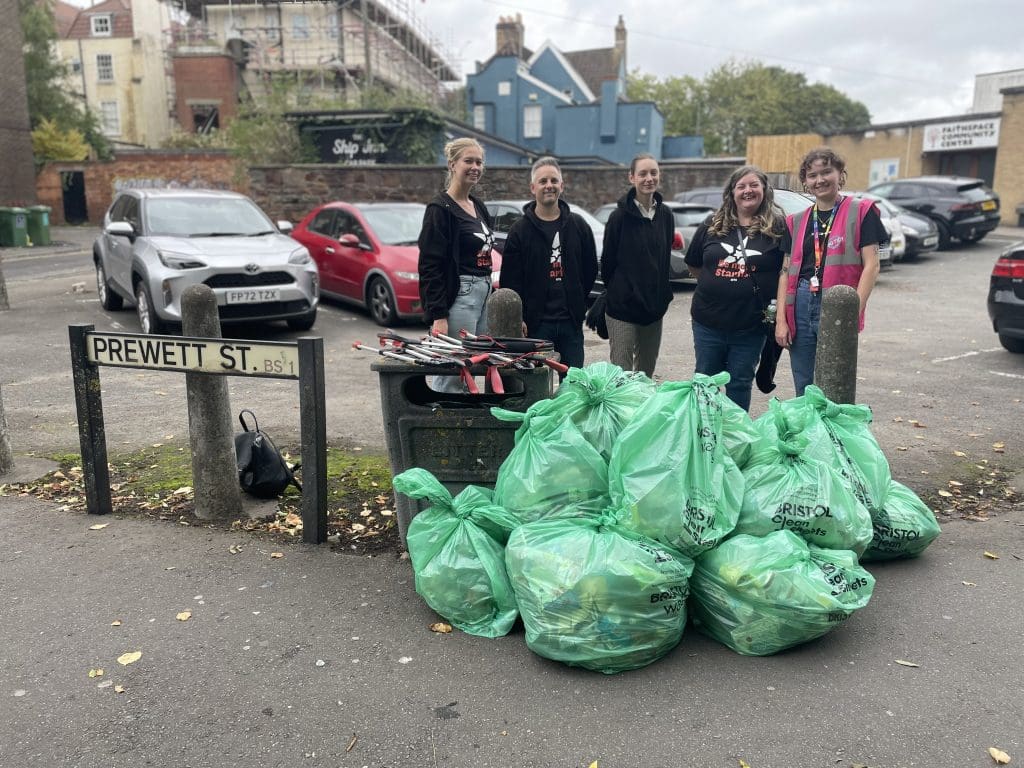 We had many local residents stopping to say thank you, and a bit out of the ordinary, one guy wanted Jo Redman and Seth Hanson to listen to him practising for a presentation he was giving later that morning. So they listened while litter-picking – he was brilliant – we hope he smashed it!
Please remember to always put your litter in a bin, or take it home and recycle it!
If your business wants to help keep Bristol tidy, find out how to get started here: https://bristolwastecompany.co.uk/big-tidy/
Connected by people
Following some great conversations and social interactions, our Managing Director, Rebecca Gonzaga, extended a warm welcome to all attendees. She initiated the evening by presenting insights into Situ's recent exciting ventures and our Be More Starfish (ESG) strategy.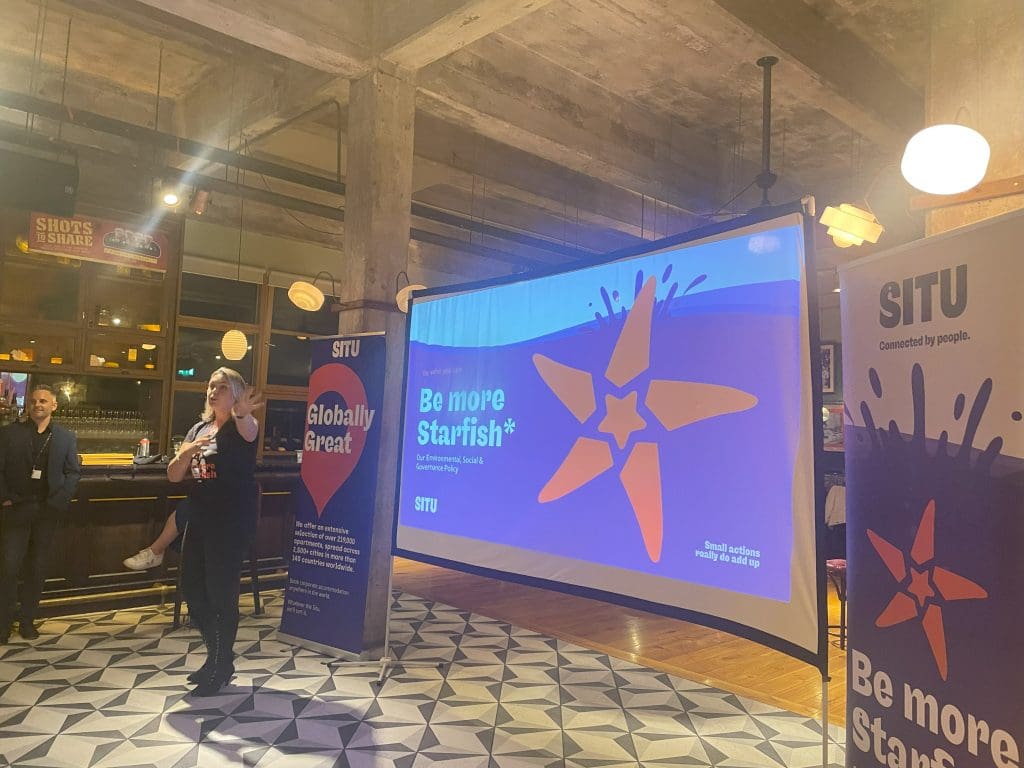 Becca had the pleasure of introducing our newest addition to the Situ team, Rebecca Brooker, who has taken on the role of Partner Account Manager. We are absolutely delighted to welcome her aboard!
Next, the attention shifted to our Head of Operations, Steph Ellis, as she introduced the Operations team members who were participating in the roadshow. Steph also updated everyone on changes and future plans on the Situ roadmap.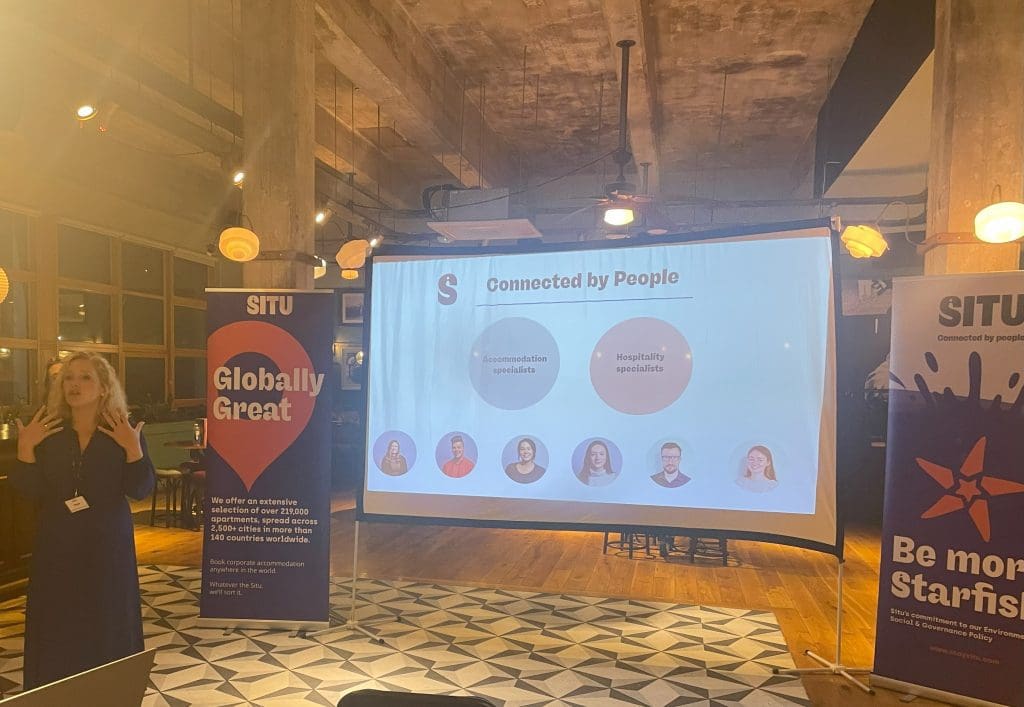 Then Seth Hanson, Head of Partner Operations, provided an overview of Situ Supply Chain's ongoing initiatives, presented valuable data, and talked us through what these positive developments mean for both us and our partners. Exciting things are indeed underway!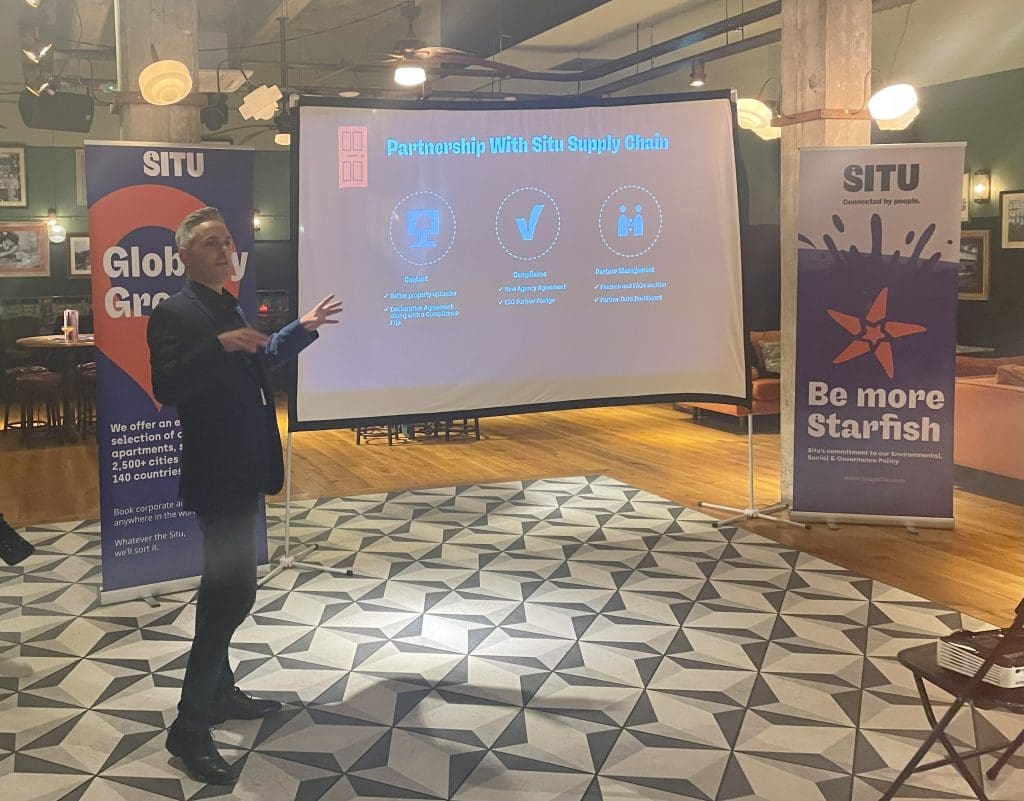 Awards, awards, awards!
Our partners are the driving force behind our success. Having you alongside us is a source of great appreciation. We genuinely relish the collaborative spirit we share with each and every one of you. Among these remarkable partners, there are some who have gone above and beyond, showing exceptional dedication in Situ's five award categories. Without further ado, here are the winners!
Booking Brilliant Award – Yoko Property
In the corporate world, having a partner who consistently goes above and beyond is like striking gold. These individuals are the key to a successful business, and their dedication and commitment set them apart. Such a partner is invaluable, and their efforts extend far beyond the call of duty. Thank you Yoko Property for being that partner for Situ!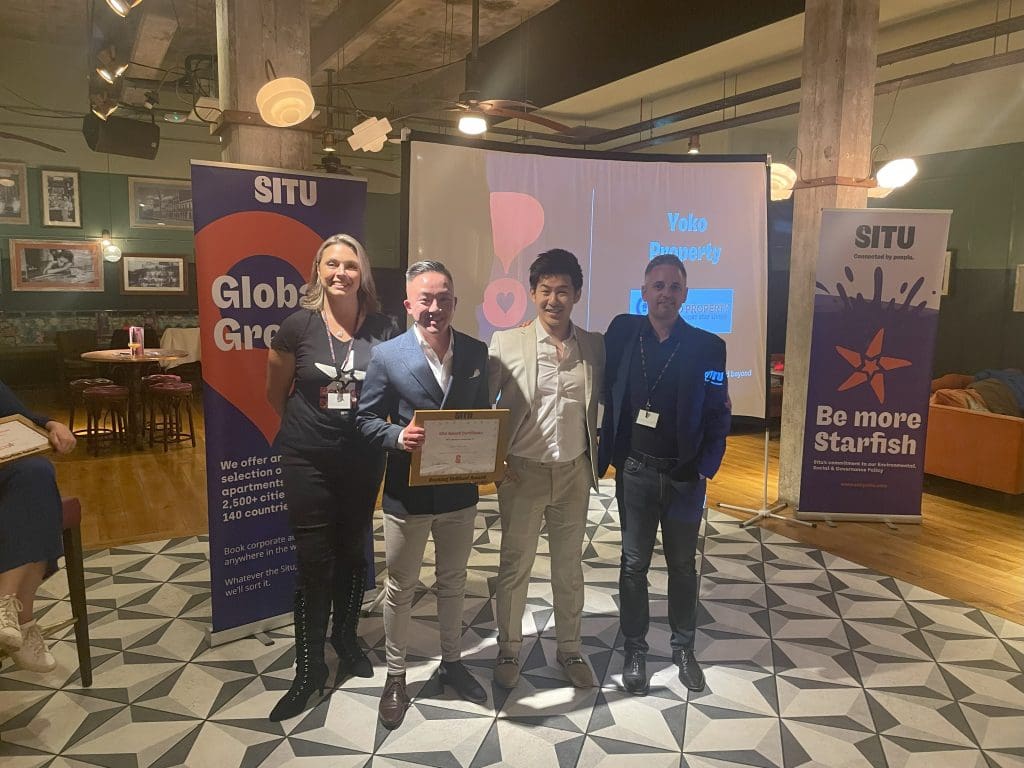 Favourite Property Award – Southampton City Apartments by Charles Hope
Charles Hope's property Southampton Apartments became the favourite at Situ, it was the one most highly rated by Situ'ers. Their achievement is a testament to their dedication and excellence.
The property that garnered this prestigious accolade was not just an apartment; it was a testament to the passion and commitment of this exceptional partner. From the moment they acquired this property, they poured their heart and soul into its transformation. It became more than just a physical structure; it became a living, breathing testament to their creativity and vision.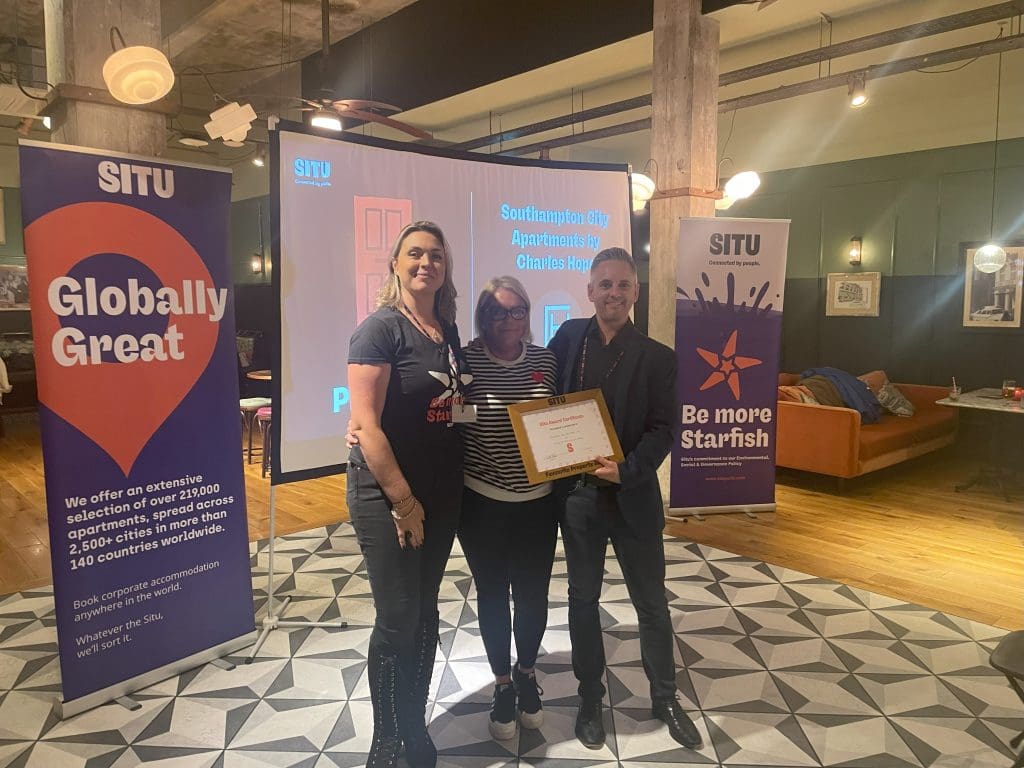 Cherry on the Cake Award – Maria Joannou from Roomspace
The "Cherry on the Cake" award is not easily earned; it's reserved for those who consistently stand out, turning ordinary into extraordinary. Maria is a true maestro in the corporate housing sector, and her work embodies creativity, dedication, and an unwavering commitment to excellence.
Maria consistently delivers results that surpass expectations, every booking she helps Situ with undertakes to a level of perfection that leaves others in awe.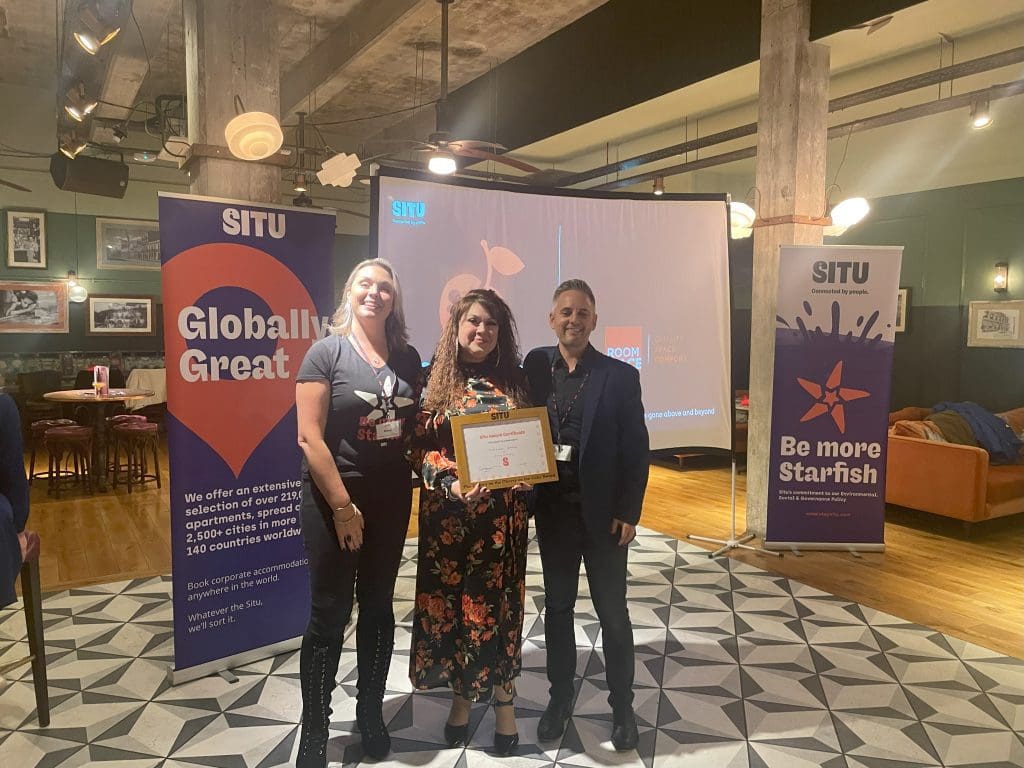 Situ Starfish Award (ESG) – Premier Suites
Premier Suites is highly dedicated to decreasing pollution, minimising waste, conserving energy, and assessing environmental performance within their regions. They always aim to inform guests about eco-friendly practices through their website, offering tips on energy conservation, local support, reduction, reuse, and recycling. Their commitment to these initiatives earned them Green Tourism certification!
Service With Heart Award – GWQ Apartments
GWQ Apartments' achievement of winning the award Service With Heart for "Lowest Service Issues to the Number of Bookings" is a testament to their unwavering commitment to providing exceptional service and maintaining the highest standards in the hospitality industry. This recognition reflects not only their dedication but also their ability to ensure that each guest's experience is nothing short of outstanding.
---
Thank you!
Huge congratulations to all the winners, and an ENORMOUS thank you to every single person who attended our roadshow in Bristol. It was an absolute pleasure to connect with all of you, and we deeply appreciate your exceptional contributions as our valued partners. Our Situ hearts overflow with gratitude. Thank you!
Watch out roadshow video: