Soak up the inimitable atmosphere of Berlin! A vibrant and multicultural capital city of Germany. The city's long and thrilling history has made its mark on Berlin's cultural and hospitality scene. The capital is home to a wealth of unique bars, from artisan microbreweries to chic rooftop lounges and fashionable cocktail bars. Here we have collected the best bars in Berlin, from traditional beer gardens to bold thematic conversions at half-abandoned industrial neighbourhoods.
For your perfect german beer experience
Start the crawl at Bei Schlawinchen, this place is a typical cheerful German pub. It attracts a very lively crowd day and night, as this pub's doors never close. Time flies here, between long beers, cheerful pub games and a friendly chat with local regulars. Bei Schlawinchen is a perfect starting point if you want to get to know the best bars in Berlin and the less glossy but charming side of Berlin nightlife.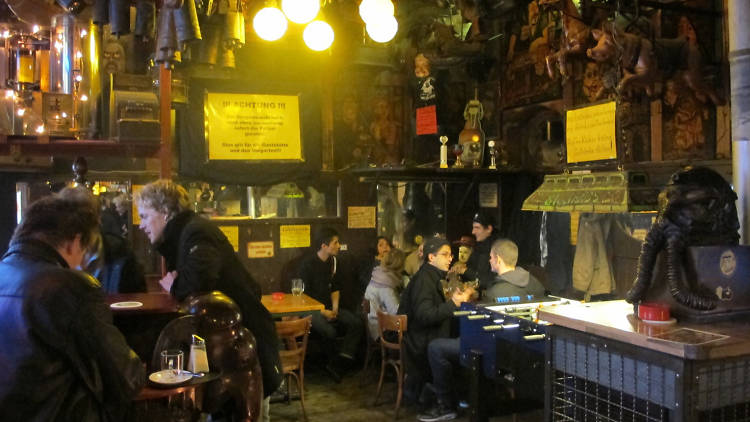 ORA is one of the most famous industrial conversion bars in Berlin. The bar occupies the site of an old pharmacy, dating back to 1861. It stayed abandoned for years and now has reopened its doors as one of the best bars in Berlin. The décor has preserved a lot of the original interior, old pharmacy cabinets and medicine jars. It creates a truly healing atmosphere!
Hops and Barley is a delightful artisan microbrewery, a classy version of a traditional beer garden. There are at least four home beers and one cider on tap any day of the week, and often some exciting guest beers as well. Count on finding at least one classic pilsner, a dark and a white beer, and a speciality beer, all brewed locally.
For your night out on a budget when exploring the best bars in Berlin
Die Weinerei is a very cheerful wine bar run by a very unusual business model and is extremely popular with the locals. Instead of paying for your drinks, you pay to rent a glass(yup, you heard right) then drink as much as you wish from various wine taps. As you leave, pay what you think fit. On some days, a dinner buffet comes at a very affordable price. All this makes Die Weinerei one of the best deals for a night out and one of the best bars in Berlin.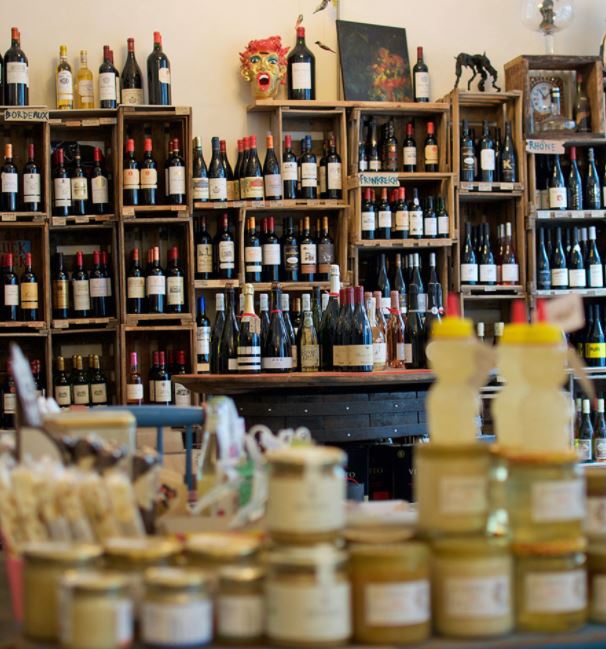 Ankerklause is a traditional pub with an original twist. Its outdoor terrace overlooks the Landwehr Canal and offers a stunning panorama. This is a perfect setting for a long beer or an afternoon cocktail. Indoors, classic rock'n'roll from a jukebox generates awesome vibes that attract the local hipster crowd. Large and small groups will find booths and tables of all sizes among a slightly kitsch aquatic décor. This is truly one of the best bars in Berlin for a laid-back night with friends.
For your bucket-list drinking experience
Madame Claude is another famous conversion bar in Berlin, occupying a former brothel. Every piece of furniture is hanging upside down from the ceiling! Madame Claude hosts live DJ performances every night, this bar is one of the favourite spots for an unconventional crowd. It's making this funky venue one of the best bars in Berlin.
Check this one out, The Black Lodge is a unique Twin Peaks inspired bar! A perfect place for a brief glimpse into David Lynch's classic terror film accompanied by beers and cocktails. The signature zigzag floor and red velvet curtains go well with the dimly lit interior and regular screenings of the original film itself.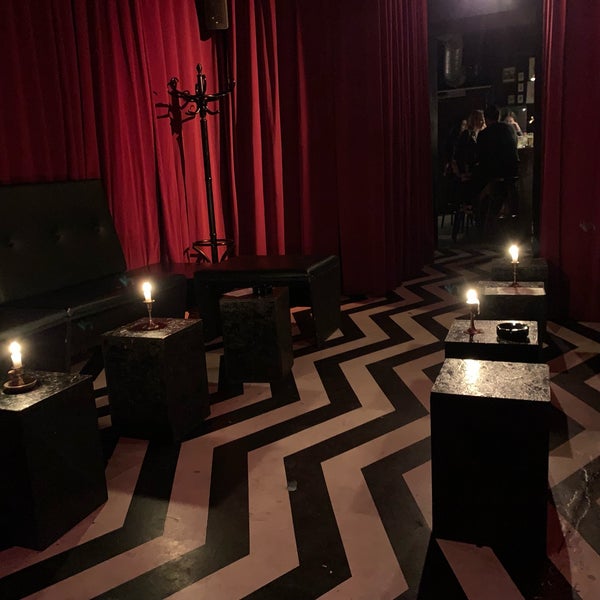 Follow the white rabbit into the fantasy world of the Fairytale Bar! The best bar in Berlin for the imaginative and creative crowd. You can't miss the illuminated sign "Follow the white rabbit". It takes you into the colourful world of Lewis Carroll and Brothers Grimm with a dash of Tim Burton for extra spark. The fairytale motif is repeated both in décor and cocktails, which are not cheap but individually crafted and artfully presented.
KLO is a unique bar not to everyone's taste, but it certainly has a humorous twist to it. This original toilet-themed bar is certainly one of its kind, and you will either love it or hate it. Drinking your beer from hospital urine bottles and eating turd-shaped sausage from bedpans is an experience not for everyone's stomach. You can have a good laugh at the coffin-shaped table while taking very memorable pictures at one of the best bars in Berlin.
For a stylish night out in Berlin
Go to the Monkey Bar for the best gin-and-tonic in the city. The theme of the bar was inspired by the view from the 10th floor of the Monkey Hotel. The bar overlooks the Berliner Zoo and its monkey house. The theme is reflected in the décor and the drinks, serving the Mad Monkey Mai Tai among exotic plants and jungle-pattern artwork. The bar has a noticeable playful feel and is by right one of the best bars in Berlin.
Bar Tausend is one of the secretive venues of Berlin, it is hard to find and harder to get into. The bar is inspired by the Roaring Twenties and its menu reflects the varied nature of the surrounding Berlin neighbourhoods. The huge dancefloor is always full and live DJs keep the party going all night. Be sure to save a night for this elegant and stylish experience.
Tante Lisbeth in Kreuzberg is one of the best bars in Berlin. A piece of a vintage classic that serves a good selection of beers in a retro-inspired décor. The 60-ties theme does not stop here, though, as downstairs is the real attraction of this retro bar. Its own two-lane bowling alley for up to 20 players and bar service.
---
You will need a convenient starting point to set off from and explore Berlin and somewhere to return after an evening out. Be sure to check out our serviced apartments in Berlin and pick somewhere to stay that's perfect for you!