Many of you will have by now seen our new bright and bold Situ brand. Or as we like to call it – our "Booking Brilliant" brand.
"Booking Brilliant" – Two simple words but believe us, behind them sits a wealth of knowledge, expertise, due diligence, and – well passion, drive, and boundless ambition to make navigating the world of serviced apartment accommodation a total breeze.
Here is our Booking Brilliant headlines:
We have been in the business of serviced accommodation for over 12 years. A track record of delivering accommodation solutions for many companies and organisations. We know our stuff, have amazing connections to hospitality providers around the globe (more on that later). We are financially sound and have a proper business when it comes to having all the balances and checks in place. GDPR, ISO-accredited processes, secure platforms, Investors in People – we could go on.

In other words, you can trust us 100% to look after your people. Your data, your accommodation business, and just know that everything and everyone will be safe and sound.
Our business has its roots firmly embedded in the principals of hospitality. We are all about making sure that people on the move have somewhere to call home when they are away from home. Project teams, corporate travellers, relocation assignees, global nomads – the title doesn't matter to us. We just want to ensure that they are safe, comfortable and have somewhere that feels familiar when everywhere else may be feeling a little unfamiliar.

In other words, you can sleep at night knowing your people are just fine and are being taken good care of – no matter where they are in the world.


We are a serviced accommodation agency who have bought together an unrivalled supply chain of quality serviced accommodation spanning the globe. Covering more than 115 countries offering over 250,000 properties. All verified and quality checked for high standards with only trusted professional hospitality providers and operators invited to join the network.

In other words, we have done the hard work for you. You can be confident that we can find the right property from across our network that meets your requirements. We have no bias or preference, simply wanting to match the guest to the right accommodation. No "random properties here", to reiterate they are all verified and checked to ensure the absolute comfort, safety and security of your travellers.


We work the way you want to work. We have a range of enquiry and booking services from the "pick up the phone and tell us what you are looking for" kind. Through to an array of technology solutions that can be tailored to meet your requirements.


Your own corporate portal, with a dashboard of preferred locations, rates and booking options. A plethora of reporting functionality and MI. Traveller tracking and integration options into third parties. We call it "Casa" – home for your serviced accommodation requirements.
Your own integration directly into our core platforms and data. Clever secure and safe techie integrations giving easy scalability, efficiencies and quite honestly a whole world of possibilities. We call it "Casa plus". Big ideas happen here.
Know exactly what you want, no hand holding needed (mind you we love holding hands, so don't be shy if you need that kind of support). Then check out

www

.

staysitu.com

. You can easily research, enquire and book and pay online. We call it easy peasy.

In other words – we can pretty much work the way you want to work, we get it – one size does not fit all, so tell us your size and we will tailor accordingly.
At Situ we love what we do – honestly, we do. We genuinely give a care about our clients, customers, guests, suppliers, partners, the environment and each other. The team came together to discuss our shared values. Our guiding principles, the way we like to treat people and be treated. We were nothing if joined up in our thinking. We like to keep things simple so we have three values and three principals – you're going to love these;
Because what it means to you is that you will love doing business with us. Our current clients, suppliers and partners all tell us we are a joy to work with and we intend to keep it that way.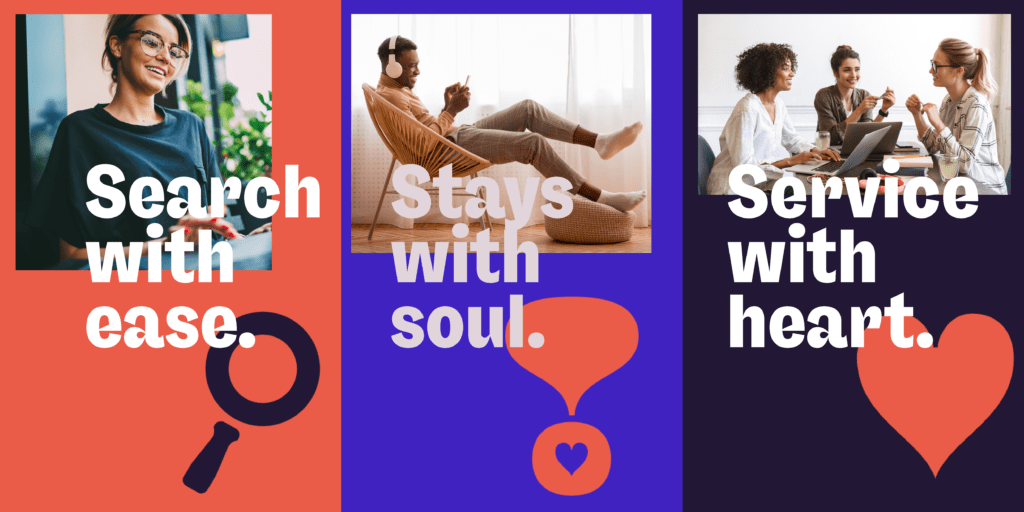 Search with ease. Stays with soul. Service with heart.
And there you have it, the headlines behind our Situ "Booking Brilliant" promise. We are what we constantly do – which is to make the whole process of finding and booking serviced accommodation effortless.