Camden is the alternative and creative heart of London. Prepare to be amazed by the variety of its music and arts scene, quirky shopping stalls and eateries. This side in London by day is just as dazzling as Camden by night. Ideally, you want to explore both the facets of this unique London neighbourhood. Here we have put together some ideas on what to do in Camden during the day and at nighttime.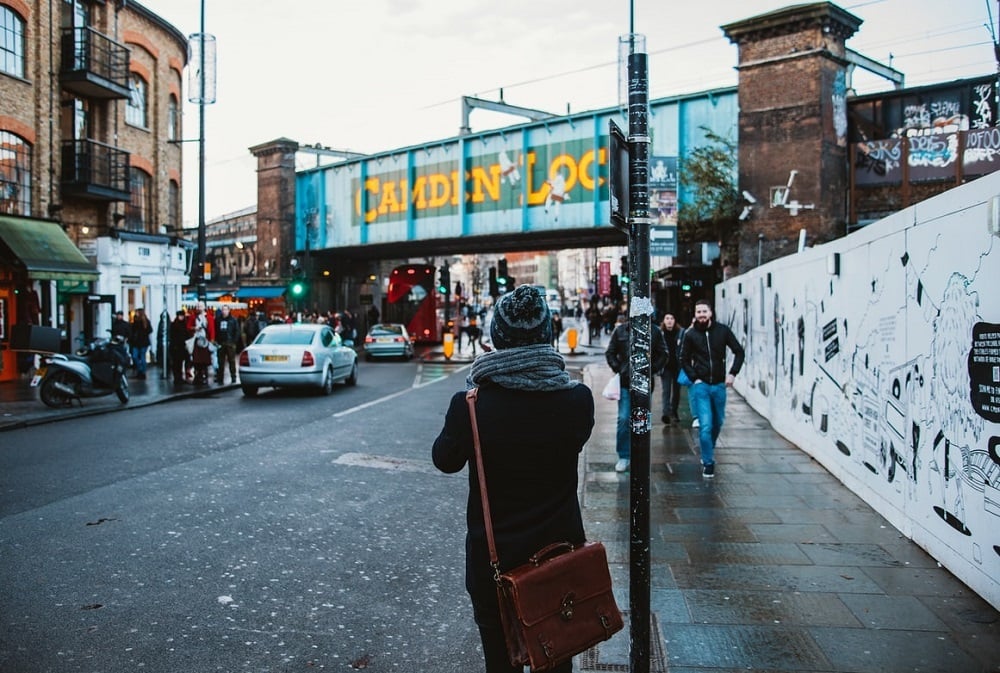 Pick up a bargain
If you are not sure what to do in Camden by day, start with the Camden Market. It will set the right mood for the rest of your visit. The Market is the place to go to for hand-made fashion and unique gifts, antique furniture and fancy jewellery. Make sure you have plenty of time on your hands. Time flies as you wander through a maze of alternative fashion and vintage shops spread along the Regents Canal.
When in the Stables Market, pay attention to the remarkable venue itself. It used to be a horse hospital and has been converted into an alternative market where one can buy almost anything.
Grab a bite in Camden Market
Unsure what to do next? Head for refreshments in the West Yard Food Hall, the best international street food venue in London. Only the best artisans from around the world present their national specialities, big food chains have no place in Camden Market. Take your street food to the canal bank for a quiet break and a spot of people-watching.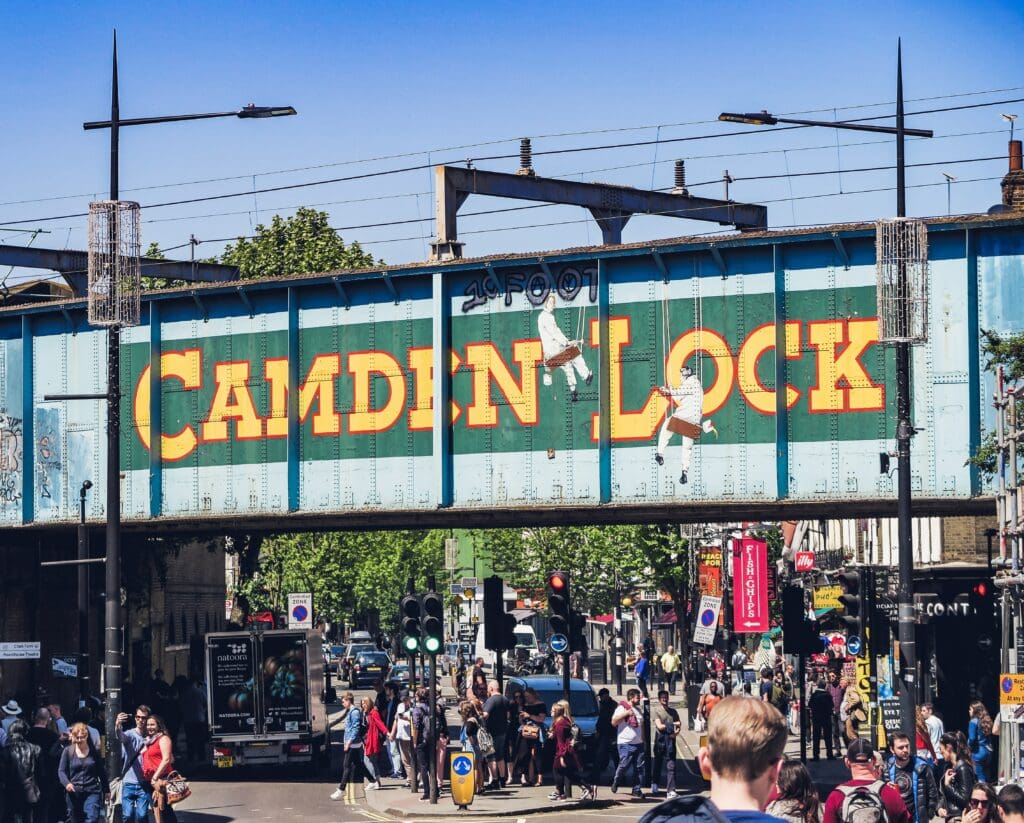 Down a pint in Camden
Spare some time to visit one of the charming atmospheric pubs. A must on your list of what to do in Camden. Soaking up the pub's atmosphere is just as important as enjoying your pint in it. Go with your crowd and follow your own itinerary, or join in on an organized crawl if you are in Camden on your own. Be sure you are comfortable with the atmosphere as some pubs are most unusual.
Relax by the riverside
Take a closer look at Camden life from a different perspective. You can embark on a boat cruise along Regent's Canal from Camden Lock to Little Venice. This trip will give you an insight into the different sides of London life. Watch people living on boats and keeping their little gardens right there. Observe residents enjoying the sunshine on their balconies overlooking the canal and pretty residential homes around London Zoo.
In summer, Camden has its own small corner in paradise. Here locals come to catch a glimpse of sunshine and relax by the waterside. An artificial beach was made near the Roundhouse to give Londoners a chance to enjoy beach life without going abroad. This beach is a lot of fun any day. It is especially so when live concerts are staged there, so check the events calendar before you go.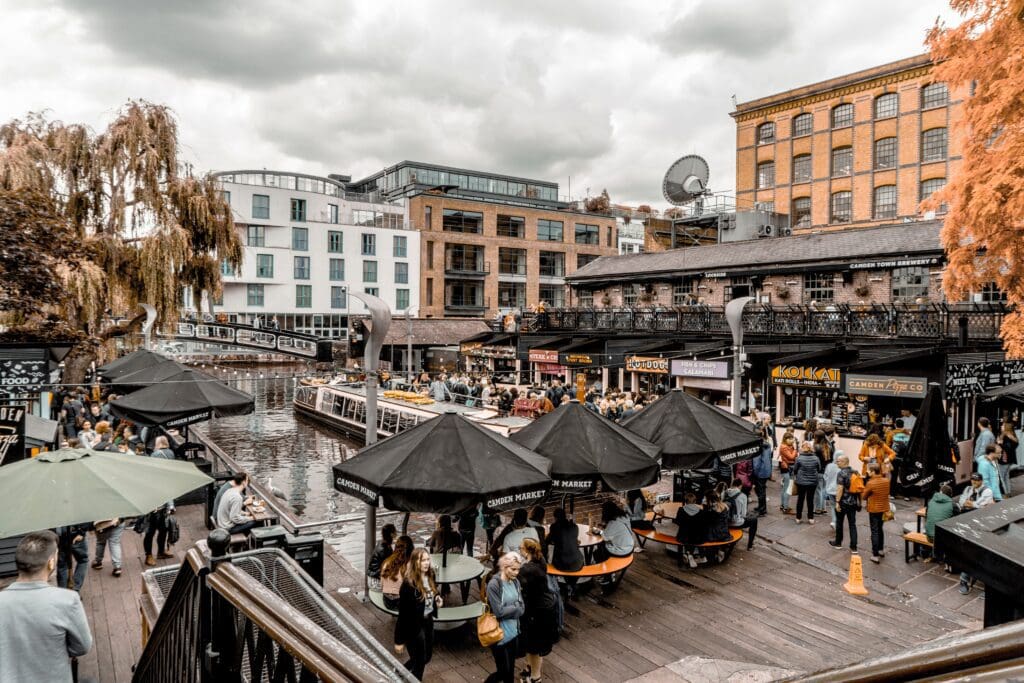 Camden at night
Come evening, you will know exactly what to do in Camden by night. Watching live music is an excellent way to discover the creative side of Camden, the go-to place for live gigs. The newest bands strive to make themselves a name in The Roundhouse. Party-goes from all over London come to Koko to dance the night away.
Learn some history
The best way to find out about iconic music figures who come from Camden like the Clash, Pink Floyd and Amy Winehouse is to join a tour around that follows all the iconic spots and landmarks of music history. Among them, the Roundhouse comes first as the star-level performance space that has an impressive calendar of live events, workshops and social gatherings.
Discover alternative music
If you are into folk music, catch a live show in the Cecil Sharp House. This is an established folk music venue since the 1930ies. This revived music genre is now on a new wave of popularity, and Camden is a great place to watch a quality performance of folk music and dance by established bands.
Jazz Café stands out among intimate venues and serves you jazz and soul as they are meant to be in many regular live gigs. Soul and reggae are often on the events calendar to add some variety as well. Jazz Café is happy to promote local rising stars and invite big international names. It is a bit of a mixed bag of what you can watch here, yet it is always a great experience.
Discover street art
Camden, the creative heart of London, is covered with a vastness of colourful murals and street art. If you are not sure what to do in Camden for street art – follow the street art tour, which will easily take up most of your day. Amy Winehouse fans can follow a dedicated street art trail that includes the most famous works dedicated to the singer, including her stunning portrait by Bambi. The street art is ultra-cool and of high artistic value, so this is a great thing to do in Camden if you have a full day here.
Camden should be on your travel route when in London. If you want to make your visit easy and relaxing – check out our serviced apartments in the area.