At Situ, we understand that it can be stressful and sometimes a bit tricky to find a global serviced accommodation agency that understands and speaks your language. Our experienced and friendly teams consist of multiple nationalities from all around the globe who speak over 20 different languages. The number of languages is constantly expanding – we're just that globally great! So what languages do we currently speak at Situ?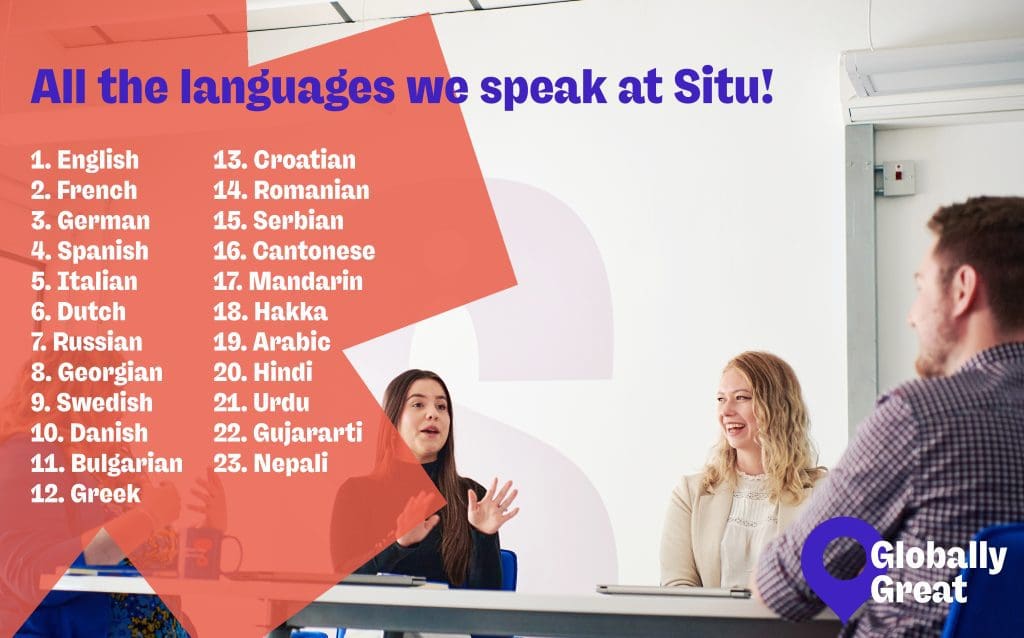 ---
What makes Situ 'Globally Great'?
What makes us 'Globally Great', you may wonder?
Since 2008, Situ has been helping companies and organisations to accommodate their people when they are on the move for business. We're people-people and love what we do. We're all about making sure that people on the move have somewhere to call home when they are away from home. Project teams, corporate travellers, relocation assignees, global nomads – the title doesn't matter to us. We just want to ensure that they are safe, and comfortable and have somewhere that feels familiar… When everywhere else may be feeling a little unfamiliar.
We are a serviced accommodation agency who have brought together an unrivalled supply chain of quality serviced accommodation spanning the globe. Situ has an extensive partner network, with over 10,000 suppliers, 32,000 buildings, and 200,000 units listed in its internal database. Situ can provide accommodation in 116 countries and over 3,500 locations globally. Our accommodation partners are all verified and quality checked for high standards. We only work with trusted professional hospitality providers and operators invited to join the network.
Our vision is to revolutionise how serviced accommodation is booked. They say familiarity breeds contempt, we say it builds strong connections, something we do all day, every day. Connecting the dots to make the world of serviced accommodation a breeze. We never forget the human element and that's what makes us different.
---
To find out more about us and why you should book your serviced accommodation with Situ, visit us at StaySitu – or why not get in touch with our friendly Situ team? You'll find us at +44 (0)1392 690 079 or email us at [email protected].