Sydney is the star destination on the east coast of Australia. It's both a sparkling metropolis and the financial capital of Australia. Cosmopolitan Sydney is also a city with amazing beaches, cosy bays, and lovely parks. There's so much contrast and variety here that it's good to have a plan to make the most of your days off – or for those vacation days that you've added into your corporate travel itinerary. Here's our take on the top 5 ways to explore Sydney while on your business trip!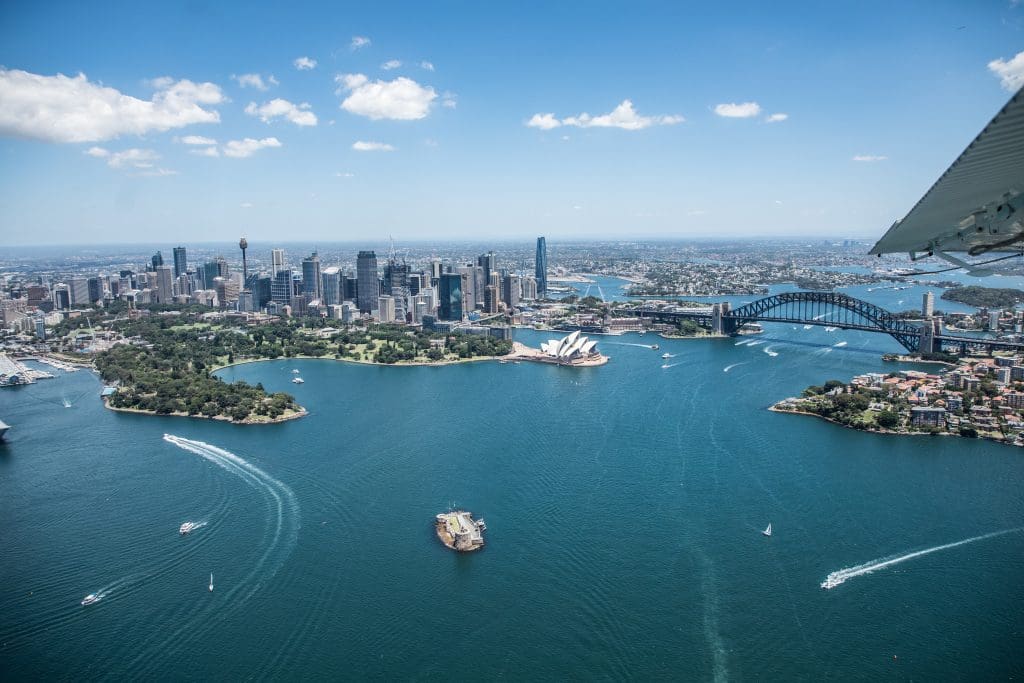 Discover different sides of Sydney
Explore Sydney's many facets through its contrasting districts. The heart of Sydney is its Central Business District on the south side of Sydney Harbour. This is an amazing mixture of shiny skyscrapers, stylish Victorian buildings, lush green oases, trendy shops, and interesting restaurants. Visit chic cafés, famous museums, and vibrant theatres, or admire stunning seaside views in Darling Harbour in the western part of the area.
The history of modern Australia began in the Rocks region to the north of the Central District. After undergoing significant transformation, the area became an elegant neighbourhood featuring high-end residences adjacent to those of the original settlers. It now boasts quaint cobblestone streets and signature pubs.
Or why not check out trendy Paddington and its classy high-street shopping, popular pubs, and gourmet eateries? Paddington is the most successful shopping district in the city, inviting shopaholics to numerous designer boutiques and art galleries.
Explore the city's iconic spots
Set aside some time on your business trip to Sydney to explore the urban landscape. Start your adventure by climbing to the top of the Sydney Tower, the city's most visible landmark. You can go to the top in as little as forty seconds in high-speed elevators – its striking structure and delightful panorama are sure to impress. Then you could take your colleagues out to lunch in the Tower's revolving restaurant – the view from the observation decks is sure to leave a long-lasting impression.
Take the most impressive photos on top of the Sydney Harbour Bridge. You'll climb over 1,300 steps to reach the top. The view from the top of the beautiful Sydney Harbour, the Sydney Opera House, and the Blue Mountains are not to be missed.
After dark, hit one of the numerous discos and nightclubs, you'll find plenty of venues for all tastes. Choose from the larger, more popular venues, or head for Sydney's local jazz scene in cosy local pubs and bars.
Go wild in the city
Explore the unique wildlife of Australia in Sydney's wildlife parks. Be sure to see the national symbol, the fluffy koala bear, in Sydney Zoo. You can hold a koala and take photos with them – you can even have breakfast with koalas in the Zoo café! In the wild, koalas are rare, but here you can observe them living happily and undisturbed.
Or take a one-hour hot air balloon flight over Sydney's Hunter Valley and watch the sunrise on the leaves of the vineyards. And after that, stop by for a gourmet breakfast at a nearby restaurant.
Support wildlife conservation at Taronga Zoo. This extraordinary wildlife park occupies acres of marina land with fantastic views of Sydney Harbour. Taronga Zoo is part of the territory of the Symbio Nature Reserve, which is home to a non-profit organization that supports wildlife conservation and promotes eco-tourism.
You don't need to go far to admire amazing animals in any of the city's parks. You can see possums and bats, colourful parrots, and ibises. Also well worth a visit if you enjoy long walks with views are the Royal Botanic Gardens, which first opened in 1816.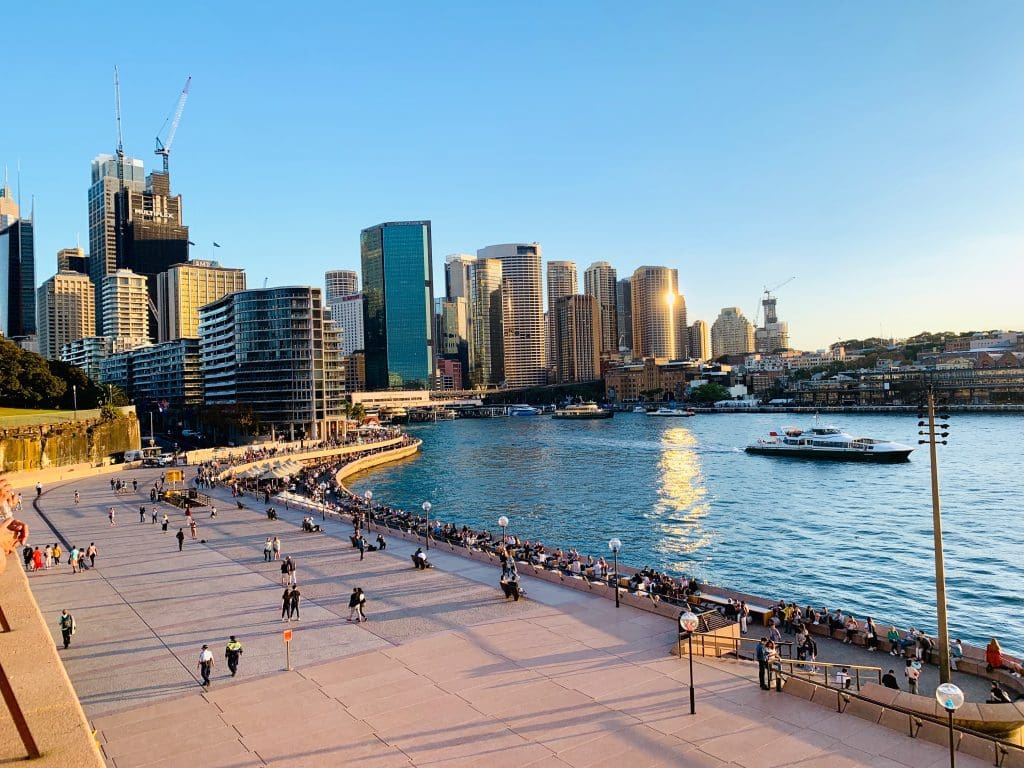 Get active in Sydney!
Sydney hosts lots of exciting cultural and sporting events all year round. Choose from art festivals, yacht races, gastronomic events, and holiday fairs for locals and visitors.
Be sure to take a break from your business trip to Sydney to hit the beach. The iconic Bondi Beach is over a kilometre long and is the top spot for surfing. Other popular beaches for basking in the sun as well as watersports are Callory, Bronte, and Palm Beach.
Sydney is excellent for diving. The clear waters of the bay are perfect to explore the rich flora and fauna of the Pacific Ocean. Botany Bay is the place to go for excellent diving. The most intrepid divers visit the 'ship graveyard' near the Belambi reef. Seeing the wreck of Adelaide is a thrilling experience. The Shark Cave on Manly Beach is for the most daring and experienced divers. If you want a safer experience of diving with sharks, head to the OceanWorld Aquarium in Manly.
Go glam with shopping and a perfect meal
Take a break from your business trip to Sydney, and treat yourself to a day in Queen Victoria House, one of the most luxurious shopping centres in the world. Choose your perfect footwear, or go for gloves, bags, and other accessories. Oxford Street in Paddington or King Street in Newtown are other great shopping venues.
After all that shopping, spend the evening sampling Sydney's distinctive cuisine. Australian meat dishes are abundant and varied. The best place to try exotic dishes including kangaroo, opossum or crocodile meat, is the Sydney Tower panoramic restaurant. Cosy and moderately priced restaurants are located in the Rocks area. Look out for trendy bars and the oldest pubs in the city to try local wines and beers.
For the freshest seafood, try the Darling Harbour area, where fast food stalls and dine-in restaurants perfectly prepare grilled shrimp with artichoke salad, fried barracuda, and blue crab meat dishes. Some places also specialise in a local delicacy – freshwater oysters.
---
So there we have our top 5 five best ways of exploring Sydney on your business trip. And of course you'll need a great place to stay while you're here. Do browse our selection of great serviced apartments, or pick up the phone and give one of our friendly accommodation specialists a call.