Yes, you read that right! We are so delighted and honoured to have received the award for Best Marketing/Branding Campaign from the Serviced Apartment Awards 2022 (SAA). In early May, members of the Situ team travelled up to London to attend the event. Full of excitement, the team enjoyed an inspirational evening at the SAA, hosted by International Hospitality Media. It was a fantastic event which saw Situ catching up with serviced apartment friends as well as making new connections.
Situ was shortlisted in the three following categories:
Best Serviced Apartment Agency
Best Marketing/Branding Campaign
Sustainability Award
It's amazing to see that all the hard work that Situ's Marketing team put into the rebranding last year really paid off. Our goal was to create a fun, vibrant, and slightly playful brand with the help of our collaborators Mr B & Friends that reflects who we truly are – and so Booking Brilliant was created.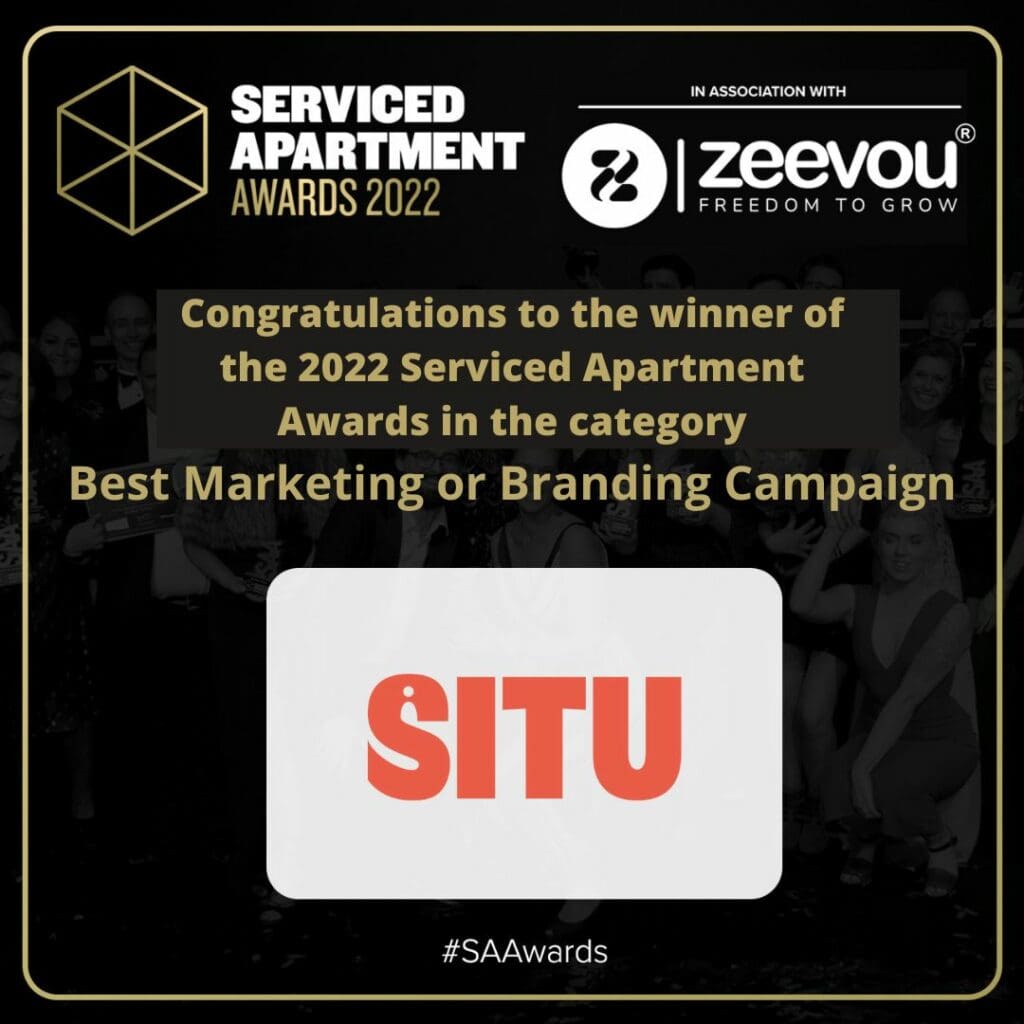 Why Booking Brilliant?
'Booking Brilliant' – two simple words, but behind them sits a wealth of knowledge, expertise, due diligence, and – well passion, drive, and a boundless ambition to make navigating the world of serviced apartment accommodation a total breeze.
Situ is all about making the process of finding and securing serviced apartments Bookin' Brilliant! Our hardworking team of account managers and industry experts make this possible, with the backing of smart technological solutions. Situ is here to help you connect either yourself or your people to wherever you need to be. And our mission remains the same no matter who we work with: to make finding and booking serviced accommodation simplicity itself regardless of industry or business strategy, because Situ's global supply chain network means you'll always have an accommodation option which you can call your very own 'home away from home'.
---
So that's it in a nutshell – why we are Booking Brilliant! 'We are what we constantly do' – that's to say, making the whole process of finding and booking serviced accommodation effortless.