New York, or The Big Apple as many people call the city… One of the most popular big cities to visit and is said to be the most cultural, financial and media capital of the world. Home to many amazing things such as Broadway, the Statue of Liberty, and Central Park. The moment you lay your eyes on New York, you'll fall in love! We have listed our top 6 favourite serviced apartments in New York to ensure you have a brilliant and comfortable time on your business trip.
The Centria Apartments
The Centria is a 35-story glass-walled residential condominium tower located on 48th Street between Fifth and Sixth Avenues at Rockefeller Center, in the Midtown West neighbourhood of Manhattan. The property amenities include a 24-hour attended front desk, but also package acceptance, elevator access, fitness centre, resident lounge, catering kitchen, and business centre. Apartments feature quality furnishings and housewares, washing and dryer machines. Moreover, you will get a fully equipped kitchen and fabulous spacious closets. They are equipped with wireless high-speed internet access basic cable television service and utilities (including electric, gas, and water).
Location: 18 West 48th Street, NY
To book or to view more photos, click here.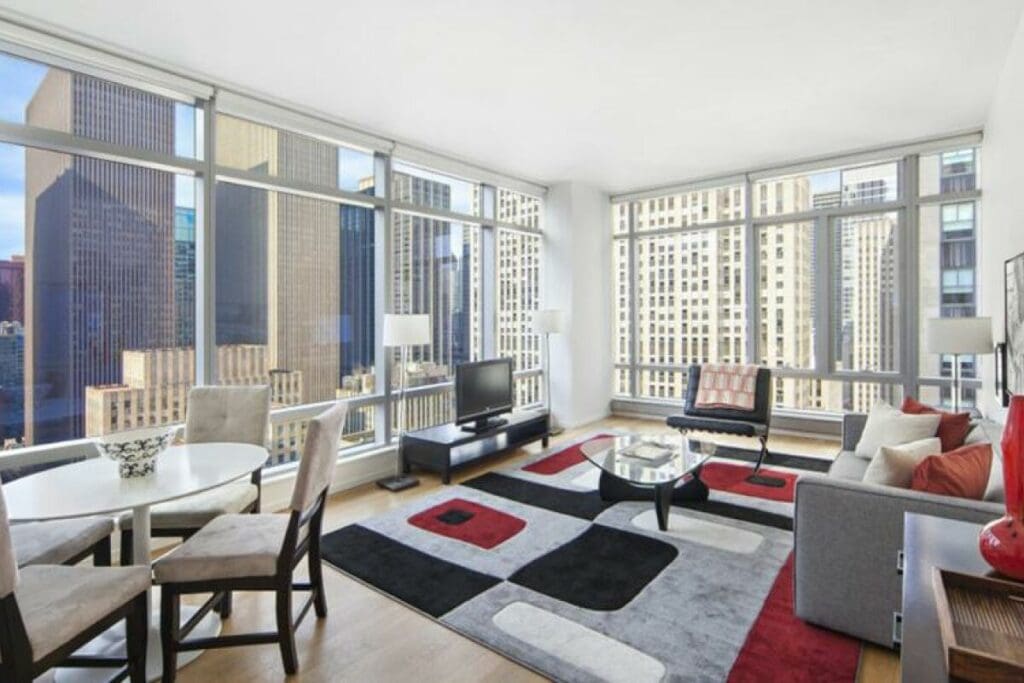 AKA Sutton Place Residences
A wide variety of accommodation is available at AKA Sutton Place Residences serviced accommodation in New York. For example, you get choices across one and two-bedroom apartments and with penthouse and duplex options available. This is a smart and spacious accommodation, so it's ideal for work visitors. It has desks and many building amenities, such as a swimming pool and a gym, as well as a bar and restaurant. In addition, you get meeting facilities too, this is a perfect business destination in the heart of New York.
Location: 330 East, 56th Street, Manhattan
To book or to view more photos, click here.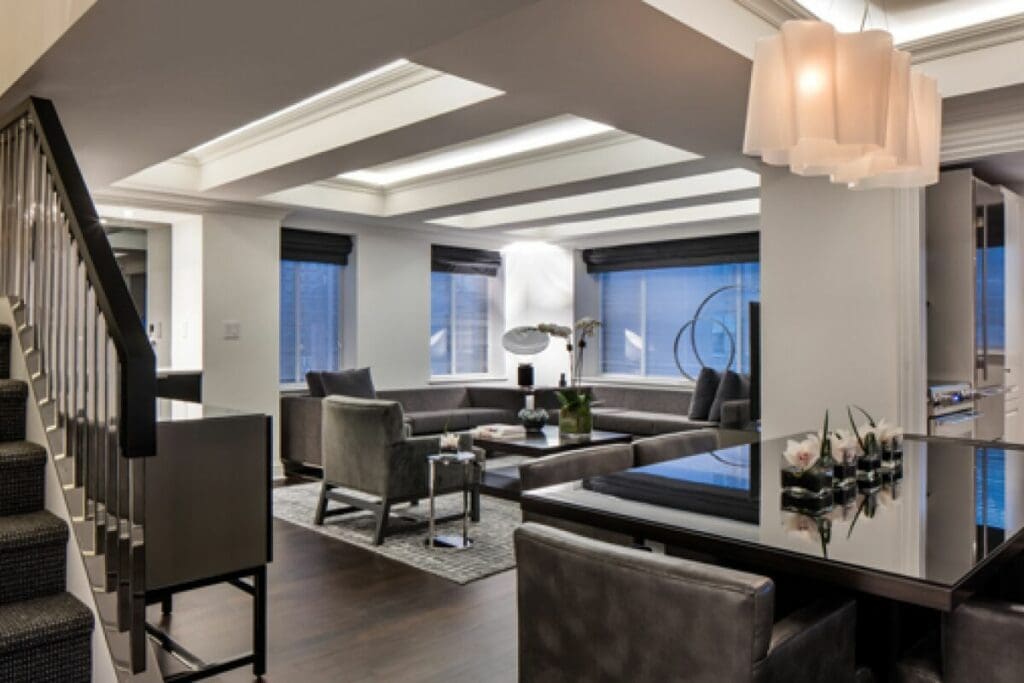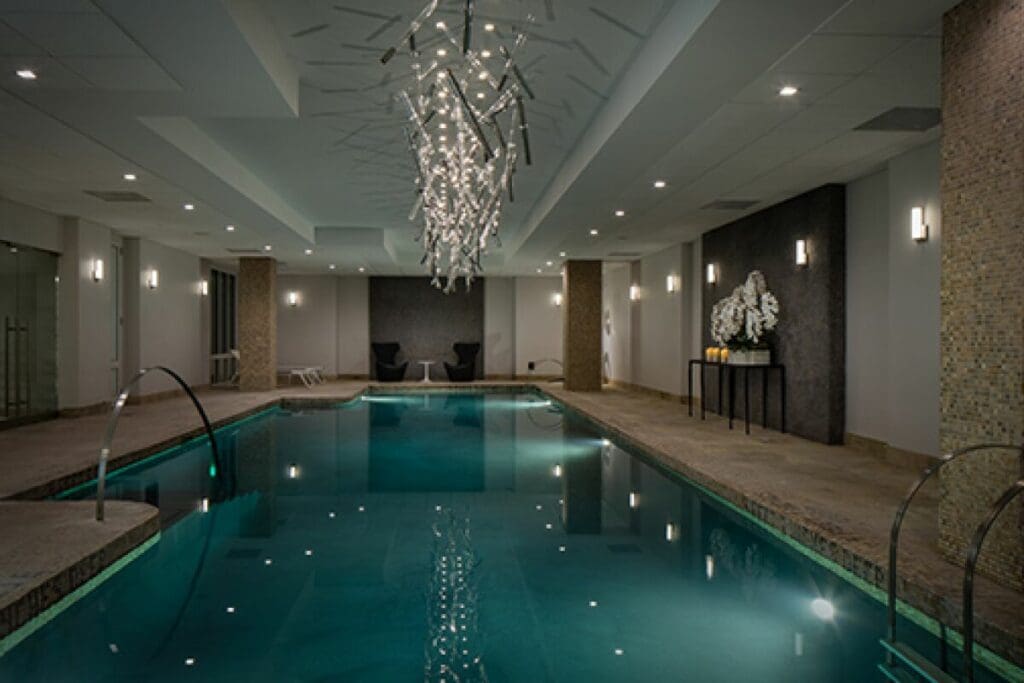 Broad Street Apartments
Taking a business trip to somewhere as large and extravagant as New York can be a stressful experience in itself. So it's important for corporates that the process of choosing accommodation to stay in is simple and hassle-free. For instance, standard hotels and many short terms, temporary housing options nowadays are so similar… Picking the right place for you can seem like a minefield. However, Broad Street apartments can offer you accommodation on a whole new level!
Location: 20 Broad S,t Manhattan, New York
To book or to view more photos, click here.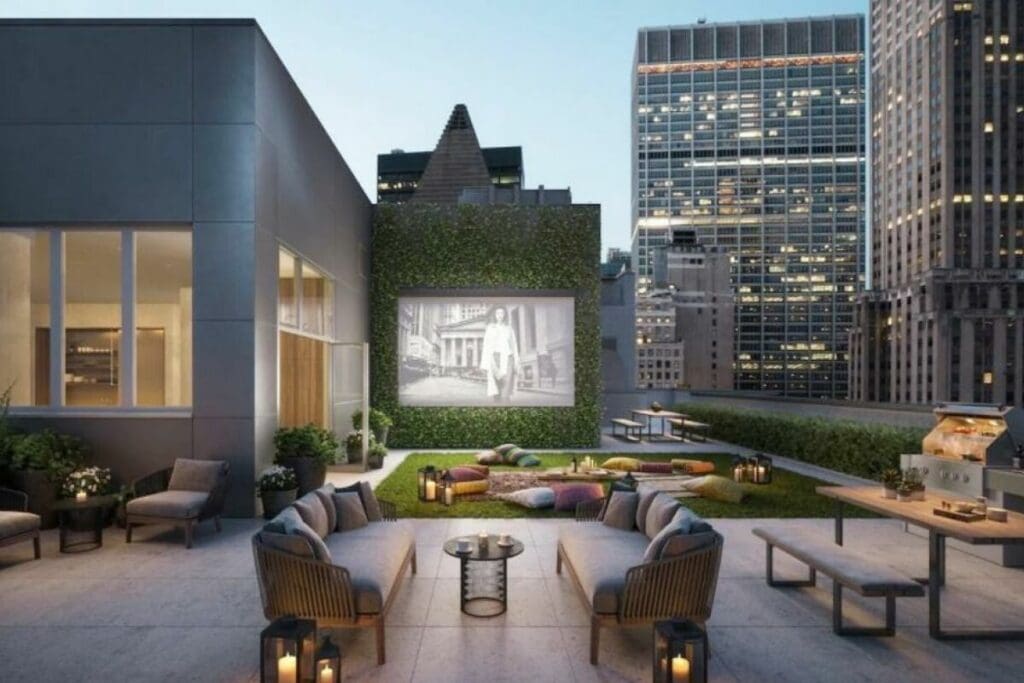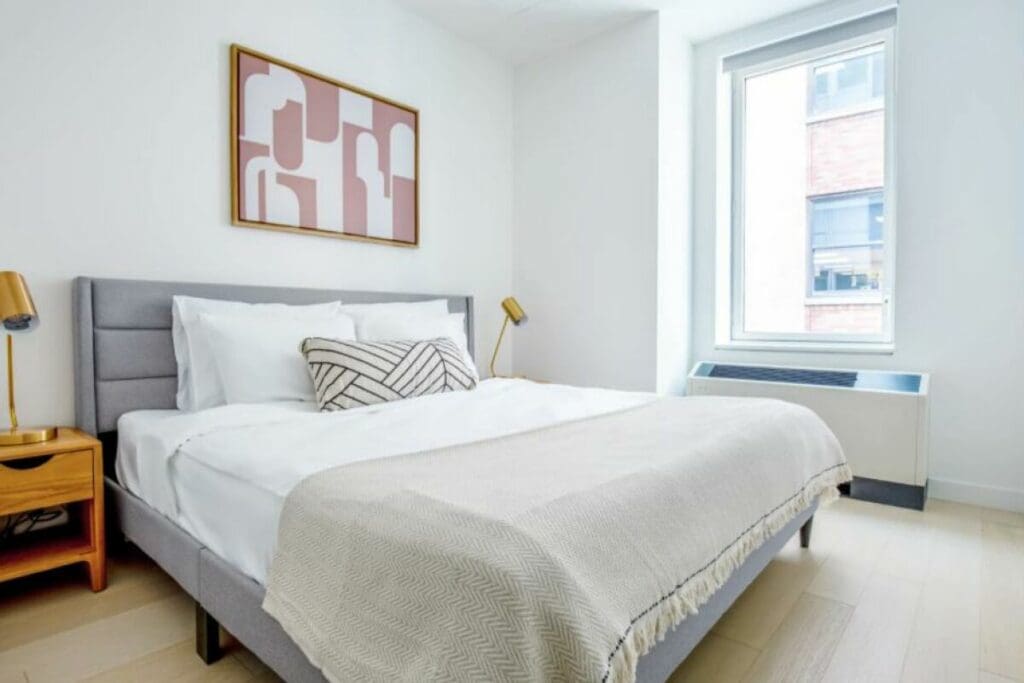 63 Wall Street Apartments
But what if you have a furry friend with you? Not a problem, Wall Street apartments are pets allowed. They offer business travellers luxurious accommodation in an excellent location, so don't worry about not being in the right area. Guests will get all needed, a fully equipped kitchen, laundry facilities, on-site gym, and even a pool table! In conclusion, this is the ideal option for serviced apartments in New York.
Location: 63 Wall Street, Manhattan, New York
To book or to view more photos, click here.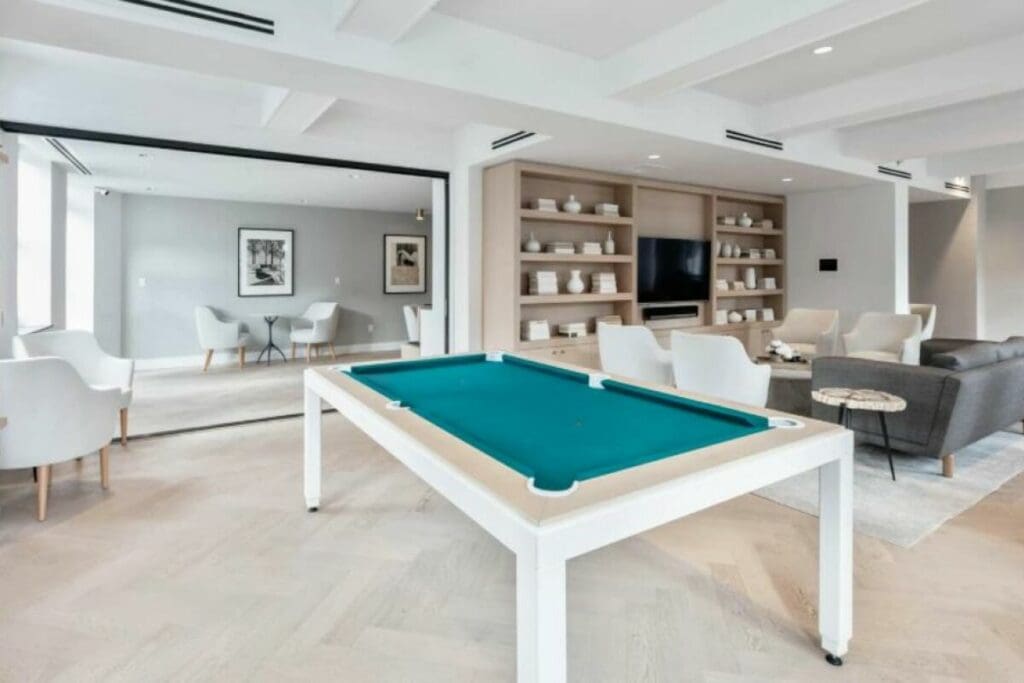 Tribeca Park Apartments
Located just a short 10-minute walk from Chambers Street Metro station. Tribeca Park Serviced Apartments can be found near an assortment of local amenities. The apartments are close to some of New York's most famous tourist attractions, so you can go out and explore without any effort. Elegantly designed and featuring modern décor throughout. Most importantly, guests can certainly enjoy the use of a spacious living area that features beautiful furnishings and is equipped with cable TV. Moreover, you'll get high-speed Wi-Fi and fortnightly housekeeping is also included as standard.
Location: Chambers Street, Manhattan, New York
To book or to view more photos, click here.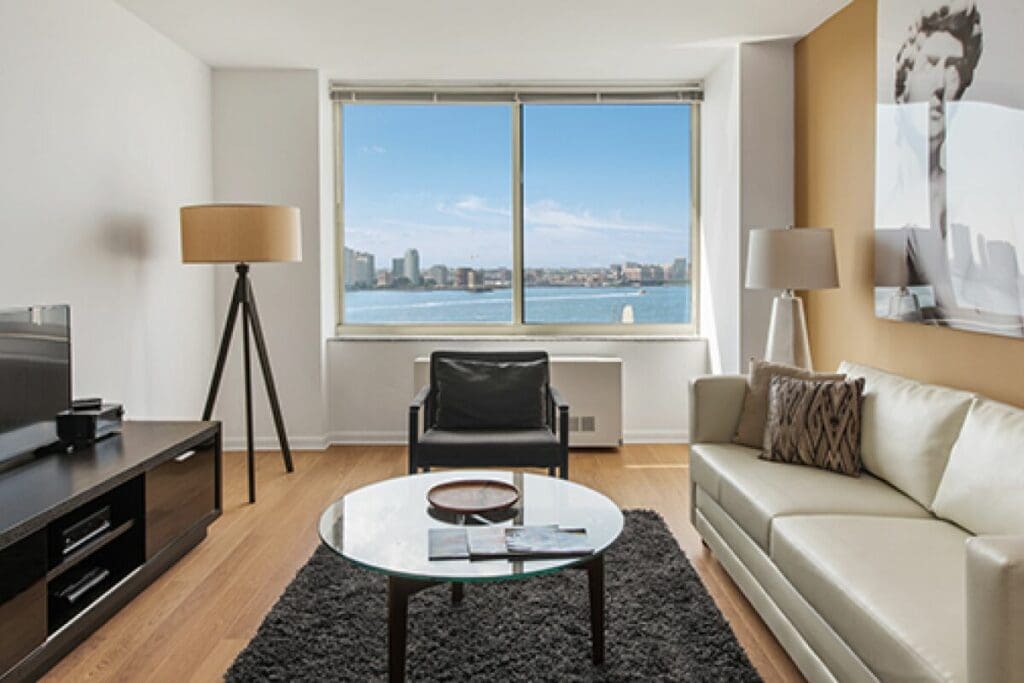 Downing Street Accommodation
These stylish studios and one-bedroom apartments in New York's West Village are brilliant, and here is why! Firstly, guests are close to NYU and just a short walk from the banks of the Hudson River. Secondly, Downing Street serviced accommodation enables a measure of independence, providing guests with their own cooking facilities for self-catering. There is also a laundry service and other amenities in the apartments including Wi-Fi and even Apple TV for entertainment. The building itself has a gym and a garden for outside space.
Location: 18 West 48th Street, New York, NY
To book or to view more photos, click here.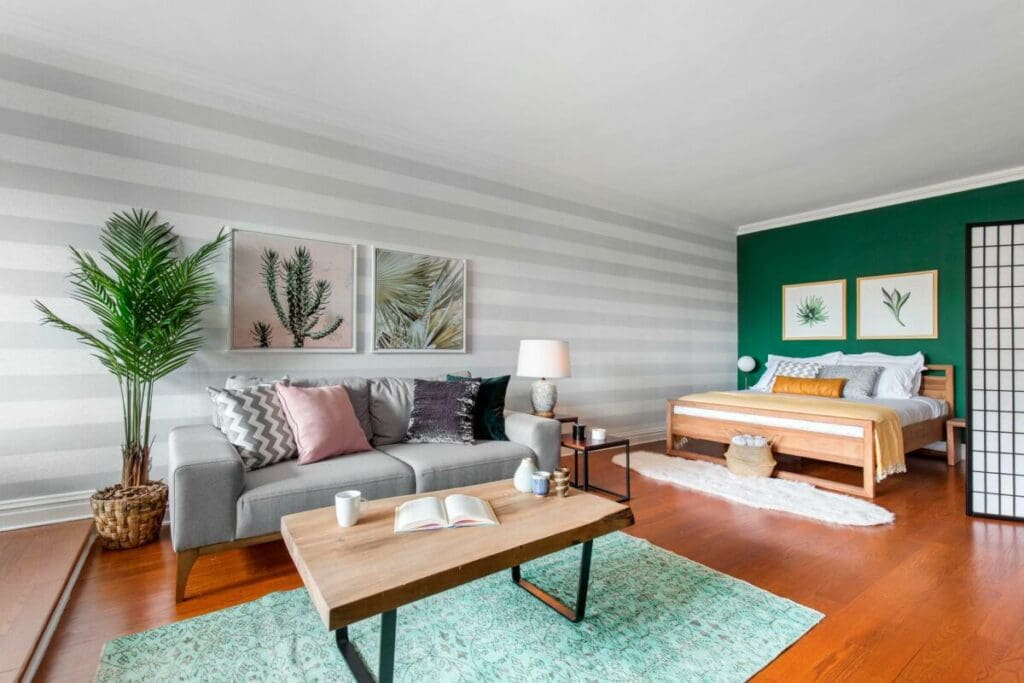 ---
Looking for the perfect short stay or extended business stay? We get it! You'll need to find that one accommodation you can relax and call your 'home away from home'… So why not browse all our range of serviced apartments in New York?