International Pet Day! | A Spotlight on SITU's Pet-Friendly Suppliers.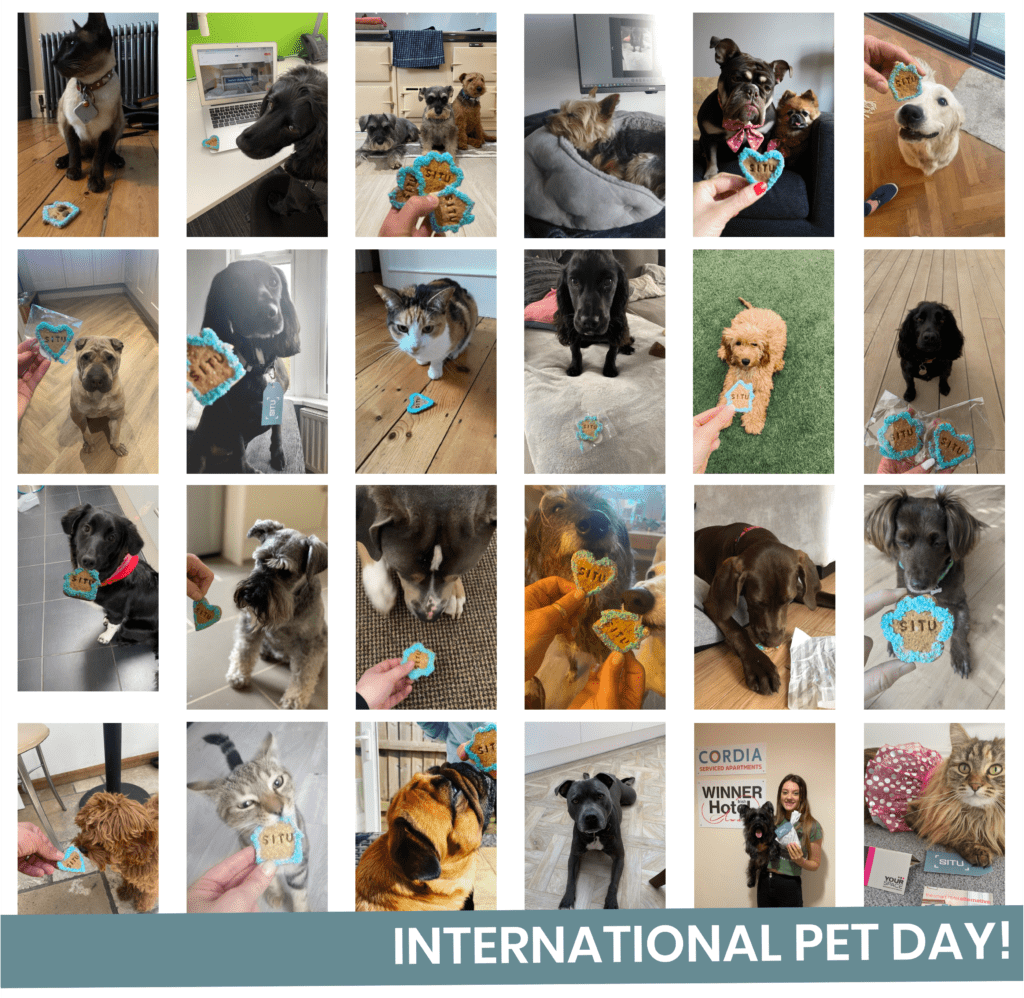 Yesterday marked International Pet Day and we thought the best way to celebrate the occasion was to send some gifts to our amazing UK pet-friendly suppliers – as a token of appreciation for all the work they do! In the following days, these suppliers and SITU staff sent in some amazing pictures of their furry friends enjoying their gifts; some Bella Bakes pet treats courtesy of us!
We want to thank everyone that took the time to celebrate International Pet Day with us! If you want to see any of these photos and individual posts for yourself, follow #SITULovesPets!
However, the main reason we wanted to celebrate International Pet Day is because we believe that it is important to highlight the value of pet-friendly accommodation for the business travel industry.
Our Supply Chain is blessed with an array of serviced accommodation that welcomes pets, of all kinds, and they allow us to fulfil our mission; 'To make finding and booking serviced accommodation effortless' for countless business travellers.
We know that the companionship a pet offers is a great way to reduce anxiety and stress, and how valuable this is for corporates relocating or temporarily staying somewhere new for work. That's why when guests stay in pet-friendly SITU accommodation, they can expect their pets to feel at home. They can also expect to have access to everything they need to keep their apartment clean, tidy and animal friendly. It's all about having the choice, and that is exactly what pet-friendly suppliers provide to those who want to take the comforts of home away with them when they travel for work.
We're proud to be working with UK suppliers such as Andras House, Cotels, Supercity, Your Space, Q Apartments, Lamington Group, Celador Apartments, Premier Suites, Week 2 Week, Staybridge and many more in order to make living and working away from home with pets easy and simple.
To find out more about the services and facilities our pet-friendly serviced accommodation options provide, email us at [email protected] or give us a call on +44 (0)1392 690 079.
---
COVID-19 Guidance
NHS: https://www.nhs.uk/conditions/coronavirus-covid-19/
Gov: https://www.gov.uk/guidance/coronavirus-covid-19-information-for-the-public
We appreciate there is still a requirement for essential travel. So, rather than risk the health of those who need to be away from home we would like to offer access to our extensive network of serviced apartments throughout the UK.
Call (0)1392 690 079 today or visit our website to find out more about how we can help you find the right serviced accommodation for you.