South London is blessed with plenty of open green spaces. Many of these are linked by the Green Chain walking trail. In this article, we look at the best parks in South London.
Richmond Park
When asked to name the largest park in London, you might say Hyde Park or Regent's Park. However, this southwest London park is the largest of London's Royal Parks.
Richmond Park is somewhere that nature lovers really must visit. It is the largest Site of Special Scientific Interest in London. The park has also been designated as a National Nature Reserve and a European Special Area of Conservation.
The rare species you can see here include fungi, birds, beetles, butterflies and bats. It's also home to extensive woodlands and wildflower meadows and is well known for the 650 wild deer that reside here.
Richmond Park also has a number of dedicated horse riding and cycling trails and is a popular spot for anglers.
It's one of the hilliest of London parks. However, it really is one of the best parks in South London, definitely worth a visit! if you make the steep climb to King Henry's Mount then you will be rewarded with superb views of central London. The hill acquired its name as it is reputed to be the spot where Henry VIII looked down to the Tower of London to see the firework that would announce that his second wife, Anne Boleyn, had been executed.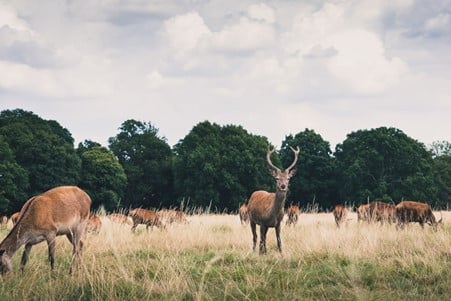 Greenwich Park
Greenwich Park in southeast London is the point from which all of the world's time zones are measured. The zero degrees longitude Greenwich Meridian Line runs through the park. If you visit the park's Royal Observatory, the line is marked here. Allowing visitors to stand with one foot in the Western Hemisphere and one in the Eastern Hemisphere.
Greenwich Park also has some of the best formal gardens of any London park. Its Herbaceous Border is no less than 200 metres long. There are also superb rose gardens, flower gardens and herb gardens.
While not having as many deer as Richmond Park, you can still see both red and fallow deer in Greenwich. The park is also home to numerous wild birds, beautiful butterflies and ancient trees.
It's a popular park for joggers and walkers, and active types can also play tennis or go boating on the lake.
The Heath
Just over the A2 from Greenwich Park lies The Heath, the open space that gives its name to the London district of Blackheath.
It's well known for being a windswept spot. You can expect to see kite flyers here alongside the runners, tennis players, bowlers and dog walkers. It's well worth climbing to the highest point in the park, The Point, for fantastic views of the city.
Amongst several memorials in the park is a moving tribute to a pilot who perished in the Battle of Britain.
Bushy Park
This park perhaps isn't one of the best known London parks. Although, it is in fact the second largest of the Royal Parks. You'll find it short distance south-west of its slightly larger neighbour Richmond Park.
Many of the best things in Bushy Park are water features of some kind. The recently restored 18th century Water Gardens are a lovely mix of pools and cascades. Here, you can also see part of the 12-mile Longford River, which is in fact an artificial canal constructed in the 17th century to ensure a plentiful supply of water to nearby Hampton Court Palace.
Large numbers of people are also drawn to the park to see the Diana Fountain. This is an impressive marble and stone tribute to the Roman goddess of hunting. It was commissioned in 1637 by King Charles I as a tribute to his wife. Now it forms part of the imposing Chestnut Avenue, designed by Sir Christopher Wren.
Wildlife lovers also come here in large numbers as it's one of the best places in London to see kingfishers and kestrels.
Bushy Park played a significant role in the Second World War. A US airbase called Camp Griffiss was located here, from where a significant amount of planning for D-Day was carried out. The buildings have now been demolished, but the location of General Eisenhower's office is marked by a brick pavement. Nearby is a memorial to the US forces that were based here.
Crystal Palace Park
This might be one of the best parks in South London to visit with children, as it's famous for its Dinosaur Trail of life-size model dinosaurs. There's also an extensive children's play area, a skate park, a maze and a children's farm with alpacas and meerkats.
Crystal Palace Park, located in south-east London. This was designed in 1852 by renowned landscape architect Joseph Paxton as a permanent home for the Crystal Palace which originally housed the previous year's Great Exhibition in Hyde Park. The 'palace' was destroyed by fire in 1936, but its ghostly remains can still be seen at the highest point of the park.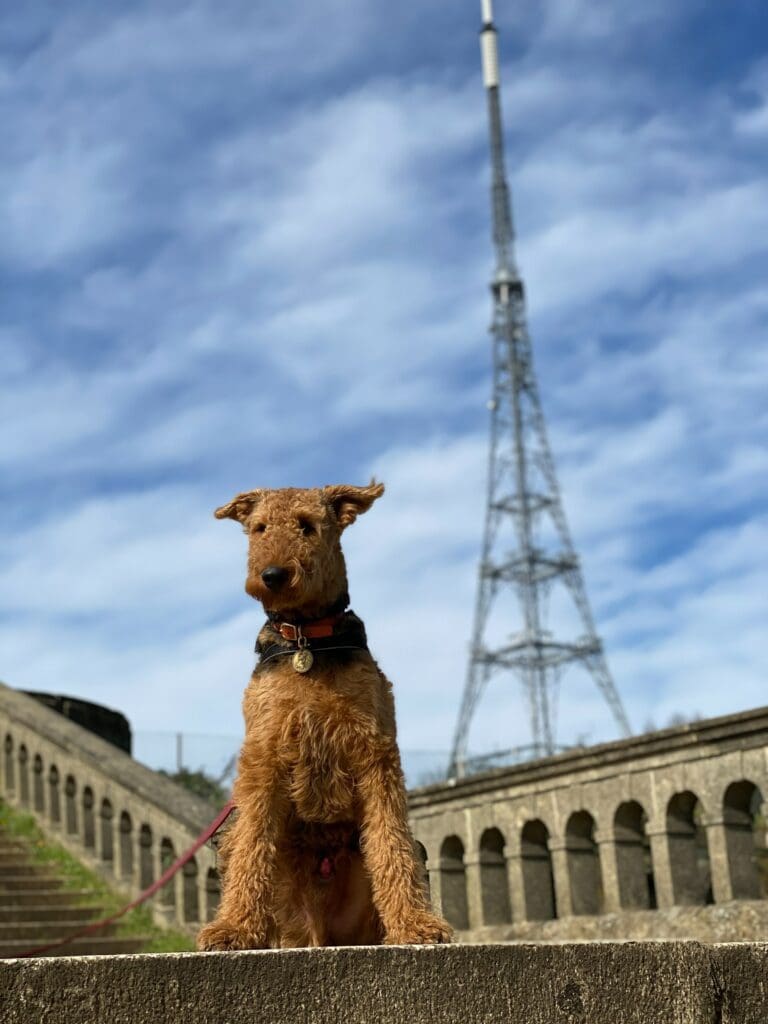 Brockwell Park
Brockwell Park in central south London houses perhaps the best-known lido anywhere in the capital. In addition to the 50-metre outdoor swimming pool, the Grade II listed Art Deco pool building houses a gym and hosts regular yoga and pilates classes.
Sport is very prominent here, in addition to the lido there's a children's playground and wet play area, a BMX track and tennis and basketball courts. There's also exercise to be had simply by walking up to the top of the steep hill in the park.
Brockwell Park also has many historical attractions, which include Brockwell Hall, a Georgian mansion; the Walled Gardens, with herb garden and wildflowers; and the cast-iron 19th century Tritton Clock Tower.
Every summer, the park hosts the Lambeth Country Show. Possibly the nearest thing you'll find to a village fete in the urban sprawl of London.
---
Wherever you choose to stay in South London, be sure to choose the most comfortable accommodation for you. Browse our serviced accommodations in South London for your utmost convenience.