Melbourne is one of the most livable cities in the world. The city has a cool European flair, a variety of entertainment and stunning wilderness within easy reach. This is a great destination to discover Australia. Let's look at all the must-do's for your trip to Melbourne!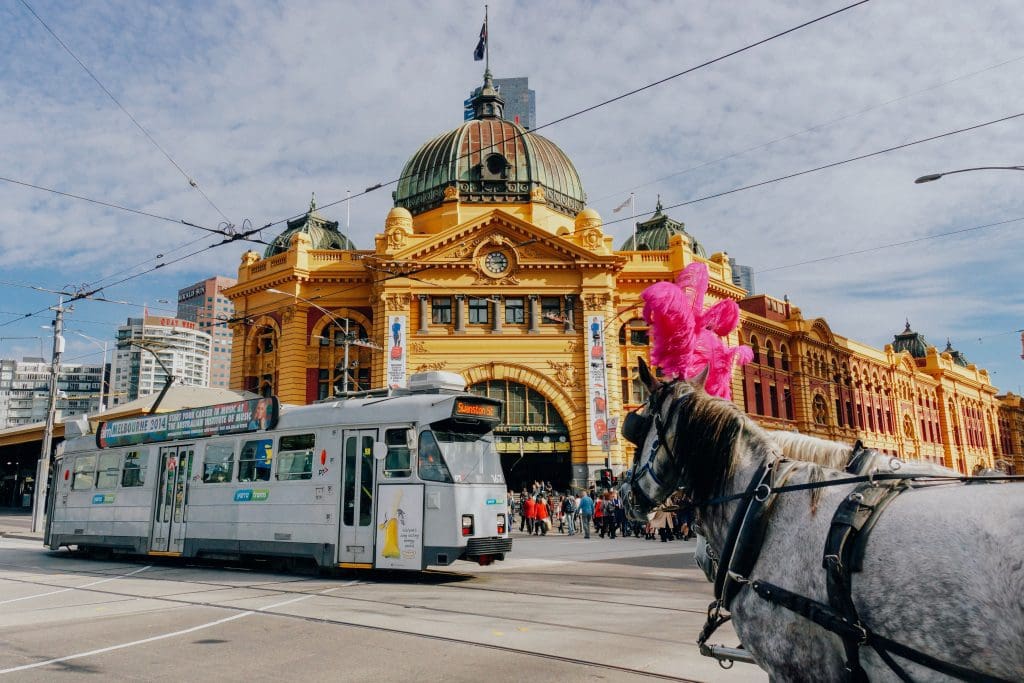 Enjoy your city break trip to Melbourne
Start exploring Melbourne in the city centre, and dive into the maze of its narrow streets and covered arcades. Admire cosy coffee shops and curious artisan stalls, and have a chat with a shopkeeper to find out more about their significance and history. Here you will find quirky cafes, independent designers and speciality shops.
Try the best and freshest local produce in Queen Victoria Market. This iconic market focuses on restaurant chefs and catering professionals, so you can expect to get the best food. Enjoy local cheeses and sweets, and fresh oysters paired with artisan wines and craft beers. Talk to the sellers to find out more about their produce and its origin and you will not leave the market hungry.
Complete your sightseeing tour high up at the large observation deck of Eureka Sky. You will be amazed by the panoramas of the city and the river. Adrenaline junkies can explore the boundaries of their courage at the unique feature of this landmark skyscraper. The Edge, a glass floor cube, suspended from the 88th floor of the building, leaves its guests to admire the streets of Melbourne from 300 metres above.
See the best of Melbourne in a hop-on hop-off tram tour. Melbourne trams are free and easy to get on and off and will take you to the best places downtown. Choose between heritage and modern trams, as both are free. You can see the whole city in around 45 minutes.
Admire arts in Melbourne
Have a look at the best street art on your trip to Melbourne. The city boasts amazing graffiti artists and spectacular graffiti exhibitions. Take your time to truly explore the art, and wander around the hidden winding lanes to see the best specimen. Graffiti tends to have prominent political and social messages, and you can get lucky to see an artist at work.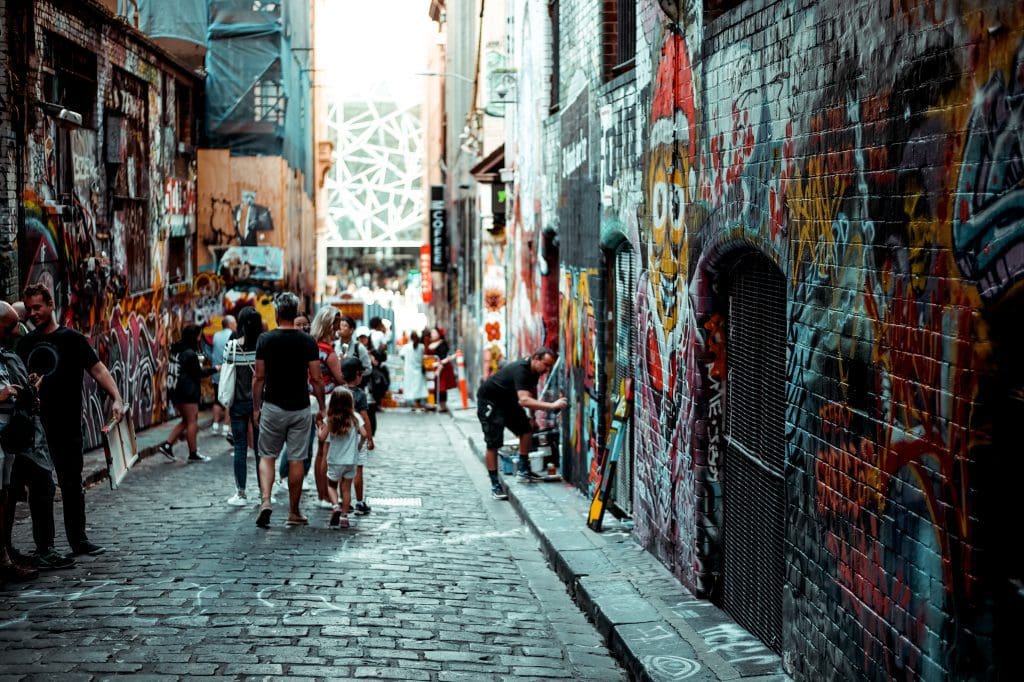 The National Gallery of Victoria is the oldest art museum in Melbourne and all of Australia. Local wealthy patrons invested in the museum's collection and acquired priceless pieces from the most famous classical and impressionist artists. Admire a unique exhibition of Asian art with exhibits from ancient Egypt and ancient Greece. Attend one of the regular exhibitions and thematic events dedicated to design, fashion and other areas of art.
The impressive Royal Exhibition Center is a UNESCO-listed venue of fascinating beauty. Its majestic architecture is an eclectic combination of various styles. The Centre hosted the 1880 Melbourne International Exhibition and has been used for various exhibitions and events since.
Federation Square is the most amazing city square you can come across and a place to be if you are on a trip to Melbourne. There is a lot going on in Federation Square any day. Spectators can watch outdoor sports on giant screens. Back alleys host theatrical performances, and artists hang out on the street, showing off their talents. Drop into one of the art galleries, restaurants, cafes or rooftop bars.
Go active in Melbourne
Set aside a day to explore the Great Ocean Road, the most impressive attraction of the state of Victoria. It's a must-see if you are on a trip to Melbourne and it is only a three-hour drive. Rent a car or take a bus tour to the Twelve Apostles Rocks. The spectacular views and the ocean panorama make it the best setting for your unique photos.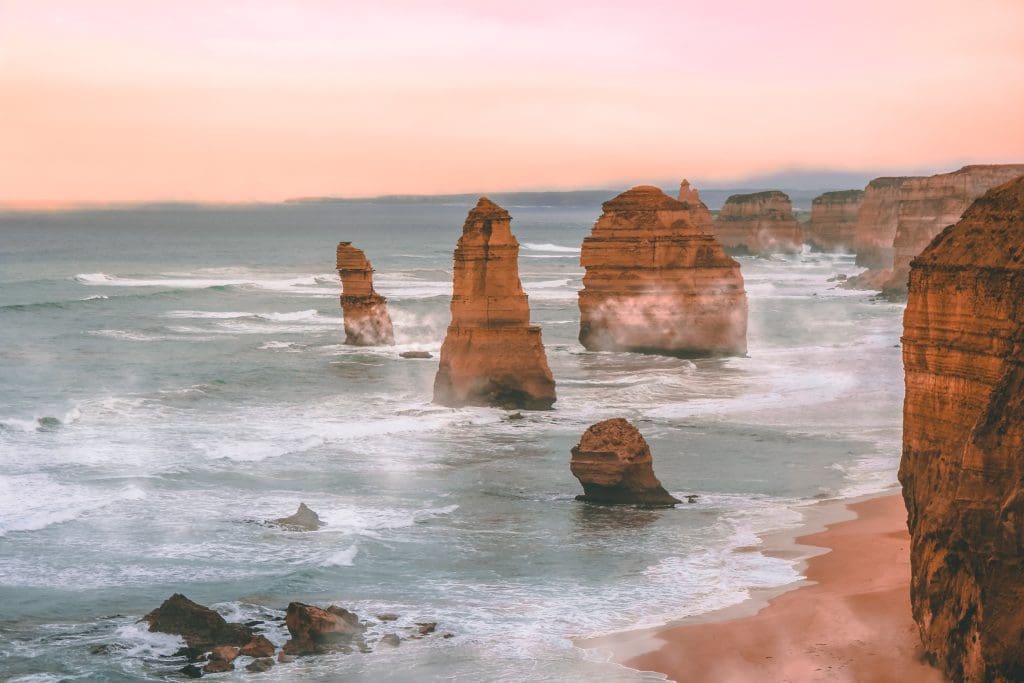 Melbourne is home to the Australian Open and when it takes place the city explodes with energy. Don't worry if you don't have tickets to the venue, the giant screens at Federation Square show all the events. Be sure to book your table if you want to watch it in a bar, as every bar plan Melbourne plays every match and large crowds gather to watch.
Visit a picturesque St Kilda beach near Melbourne. The town used to be home to the crème de crème of Melbourne in Victorian times and has been a luxurious and vibrant coastal destination since. Today, many visitors flock to St Kilda to chill, bask on the beach or attend one of many large cultural events and festivals. Be sure to go down to St Kilda beach to go kayaking along the promenade and watch the penguins.
---
So there we have Situ's list of reasons why you should go on a trip to Melbourne. Of course, you'll also need somewhere to stay while you're here. So do check out our carefully curated range of serviced apartments in Melbourne and make the most of your stay in this fantastic city.