Some districts of East London are amongst the capital's rapidly 'up and coming' areas. In this part of London, you'll find plenty of great restaurants and many other places to eat in East London. Including exciting new ventures and more established venues.
Nest, Hackney
Nest specialises in seasonal ingredients and traditional British cooking. Much of its meat comes from small sustainable farms in different parts of the country. The meat you eat here could well be from a heritage or rare breed animal.
There are only seven tables here, and this establishment is consistently rated as excellent We recommend booking well in advance!

Brawn, Bethnal Green
Just down the road from the Columbia Flower Market is this superb Mediterranean tapas-style restaurant. Its menu is not extensive, but the ever-changing offering is sure to include great meat, fish and vegetarian dishes.
If you can't make it here for dinner, Brawn also has a shop. You can buy their creations either in person or online.
Barge East, Hackney Wick
A winner of the Best Newcomer award in 2021, and a well-worth visit if you are looking for places to eat in East London. As the name suggests, this restaurant is actually situated on a canal boat moored in the River Lea.
You can choose to sit indoors or outdoors and choose from a carefully selected set menu of seasonal British dishes. It also has an amazing cocktail menu.
For a more informal option, you can stay ashore and go to Barge East's Gardens. Here casual street food is served as well.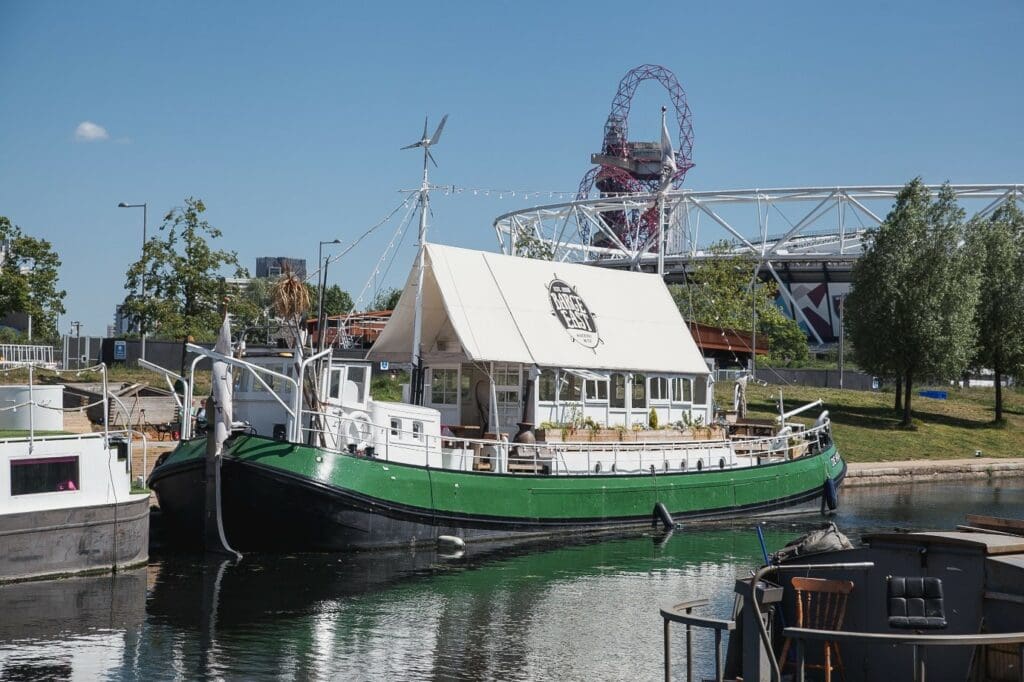 Morito, Hackney
Morito offers an extensive menu of tapas-style dishes from Southern Spain and North Africa. There's usually plenty of meat on offer, but its Vegan Monday menu ensures all tastes are catered for here.
Beneath the main restaurant, the Downstairs at Morito bar hosts regular ticketed live music events, showcasing the very best local performers.
Darkhorse, East Village
As the location of the Olympic Park for the 2012 Summer Games, the Stratford area of London has been massively transformed in recent years.
Darkhorse opened in 2016 and has attracted rave reviews ever since for its Northern Italian-inspired selection of meat, fish and pasta; for its afternoon snacks menu; and for its cocktails.
You can also purchase food from their shop and have it delivered to an address in the local area.
Barboun, Shoreditch
Barboun offers cuisine from the Levant area of Syria. In the evenings, enjoy meat, fish or vegetarian dishes cooked on an authentic wood fire. If you're here in the early afternoon, try its Middle Eastern take on British breakfast favourites.
Like so many of the area's best eateries, you can also take their offerings home, as this establishment also operates as a delicatessen during the daytime.
Pachamama East, Shoreditch
There aren't many Peruvian restaurants anywhere, and certainly few as good as this Great Eastern Street establishment.
It's open every day for lunch and dinner, and for brunch at the weekends. At dinner time, the owners recommend three to four dishes per person, including a snack and a dessert.
However, the generous sharing platters of seafood are genuine works of art here and have to be seen to be believed.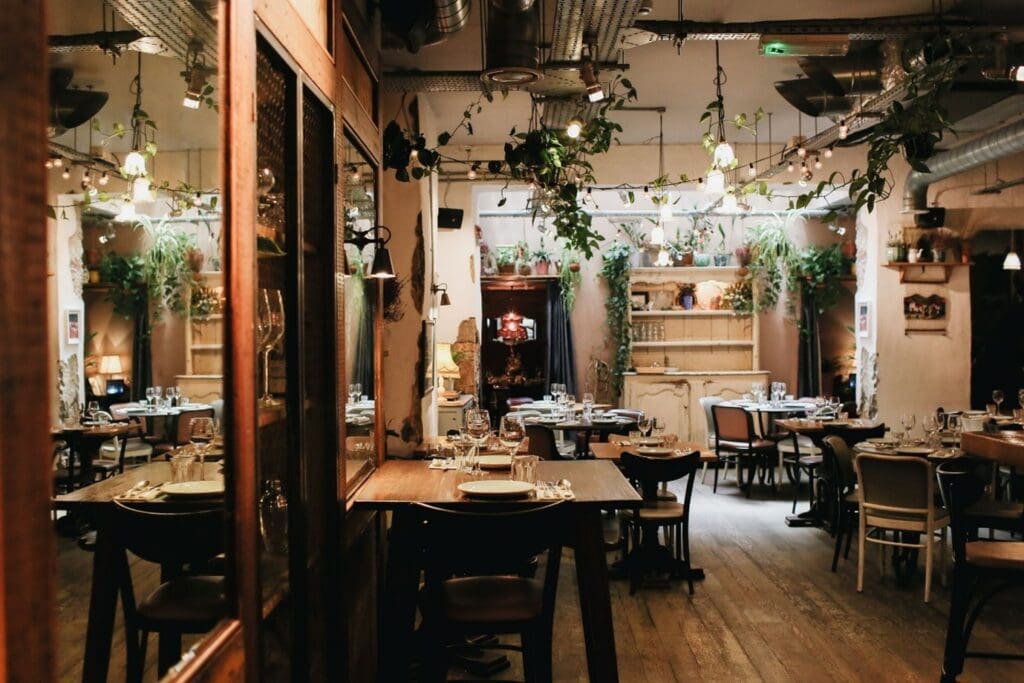 Lahpet, Bethnal Green
This is another restaurant offering an unusual national cuisine, as here you can sample the very best Burmese cooking – it's one of the very few such places anywhere in London.
Lahpet offers a limited menu of small and large plates, which includes curries and fish and vegetarian offerings. It also has a quirky selection of Far Eastern-inspired cocktails.
Angelina, Dalston
There's more innovative cooking on offer here at this Japanese-Italian fusion restaurant. It seeks to create "flavour combinations that challenge and excite" in its four and ten-course tasting menus.
Unity, Spitalfields
Stereotypes aside, it's fair to say that East London has more than its fair share of vegans, and they are well catered for in the area.
Unity has an extensive selection of both small and large plates. It's well-known in the locality for its eclectic offering of vegan burgers, although it also offers hot dogs, vegan meat and vegan seafood.
SpiceBox, Walthamstow
You can still find great vegan fare away from the traditional 'hipster' districts of Hoxton and Shoreditch. This north-east London restaurant offers the very best vegan Indian cuisine, with curries based around lentils, mushrooms, jackfruit and coconut.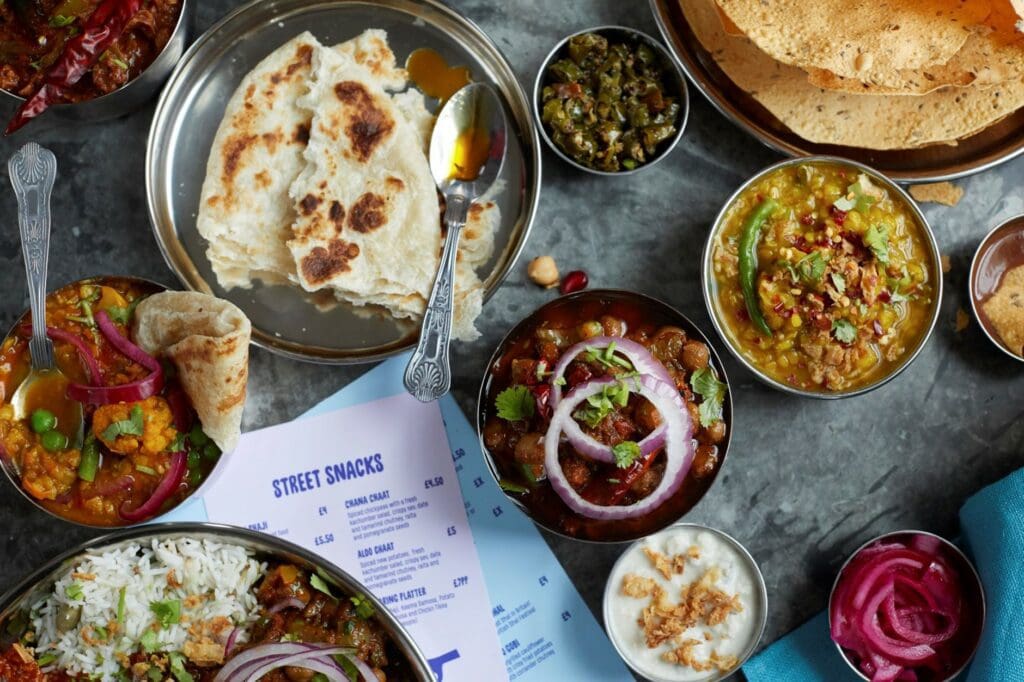 Grind, Shoreditch
This is perhaps one of the best places to eat during the daytime. Although it opens two evenings per week to serve a small plates menu, its principal offerings are its breakfast and brunch menus, which include everything from smashed avocado and coconut yoghurt to a full English.
---
More importantly, before deciding what places to eat in East London, be sure to choose the most comfortable accommodations for you. Browse our accommodations in East London for your utmost convenience.