There is any amount to data and research out there that backs up the importance and relevance of having a workplace culture where recognition and appreciation is part of the daily dialogue.
As an example, the O.C. Tanner 2023 Global Culture Report states that 'it would be difficult to rank the insights in this year's report,' but the unambiguous linchpin of this chapter is that recognition leaves a deep impression. Moreover, the report goes on to say that 'highly integrated recognition has a powerful impact on organisations,' increasing the odds of several positive outcomes and decreasing the odds of some negative ones:
Great work (+1,181%)
High engagement (+784%)
Thriving culture (+648%)
Employee attrition (–29%)
Employee burnout (–80%)
Powerful data and insights, and it seems extraordinary that according to the report. Only 21% of workplaces worldwide have integrated recognition!
Thankfully, at Situ, we are all about recognising and appreciating our brilliant team. It comes naturally and is very much baked into our DNA and, as a result, our company culture. That said, it takes time and thought to do it in a way that is genuine and meaningful for the receiving recipient.
Thanks and cheers!
A throwaway "thanks and cheers" as team members finish work for the day is OK but not particularly impactful. Far better to take time to stop and acknowledge something specific – stating what someone has done and the resulting impact and benefit.
We have a number of ways across the business that encourage everyone to take time to genuinely say thank you, these include:
😊 The Fortnightly "all in Town hall" call, where everyone meets for 30 minutes to recognise success and achievements from the previous weeks and set the pace and objectives for the forthcoming fortnight. Shoutouts abound for individuals, with much clapping and cheering
😊 On our internal Be-Situ platform, we have a digital thank you postcard scheme. Anyone can send a postcard to anyone in the business – calling out thanks and recognition for something they have done. A "happy chemicals" release right there – for both the sender (oxytocin) and the receiver (serotonin)
😊 Long Service Sabbaticals – introduced this year as a new way to support and recognise our amazing people. Team members can have additional time to focus on personal development, family or learn new skills they have always wanted to develop.
😊 Complimentary stays – everyone gets the opportunity to book a one/two-night stay in one of our global locations. Situ picks up the cost of the accommodation.
😊 Bonus Scheme – recognising that everyone's role in the business is important and essential. We have designed a bonus scheme that rewards everyone (not just the sales team) for the part they play in our success.
😊 Annual and quarterly Situ awards – where everyone across the business places their votes for who they think should receive the accolade of being an award winner. And, we have just had the pleasure of announcing our Q2 2023 award winners. There were the awards up for grabs……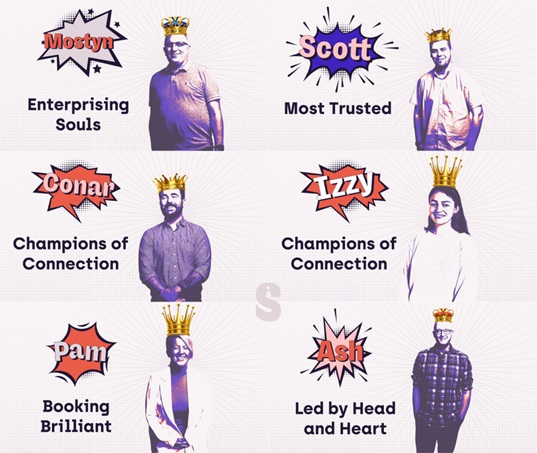 Booking Brilliant – Pam Lambden, Accommodation Specialist
Designed to recognise an individual who makes booking accommodation for our customers effortless. "The crowd went wild" when Pam's name was called out, though it wasn't really a surprise! Her fellow team members, Situ global partners and clients all value Pam's deeply supportive approach, expertise and professionalism.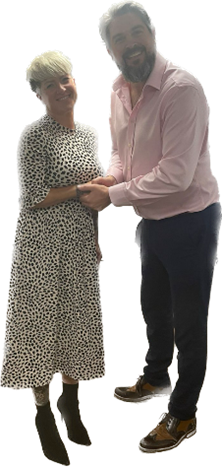 Most Trusted – Scott Eveleigh, Accommodation Specialist
As one of our leading accommodation specialists in our busy Business Travel team, Scott is undeniably brilliant. Scott's empathy and understanding of people means that he consistently finds our clients accommodation solutions that really feel like home, rather than just somewhere to stay.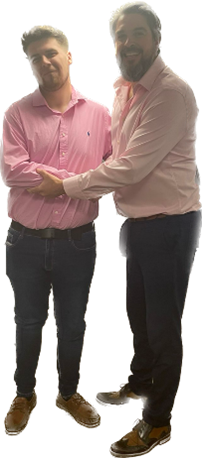 Champions of Connection – Conar Pearson, Partner Specialist and Izzy Slater, Hospitality Specialist
A people-person through and through. That's our boy Conar, as he works his magic across the company and with all our clients and partners. Respect, openness and kindness pour out of him as he makes the connections between our busy operational team and global partners.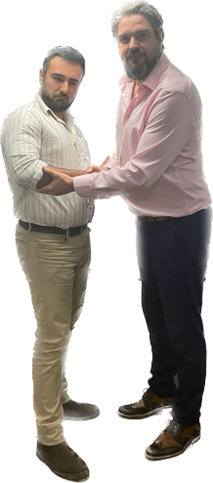 Despite being fairly new into Situ, Izzy has made an incredible impact on everyone that has connected with her. As a Hospitality Specialist Izzy naturally puts people first. She has shown this through her commitment and passion to supporting the wider Situ team, and she recently joined our employee-led DE&I Committee.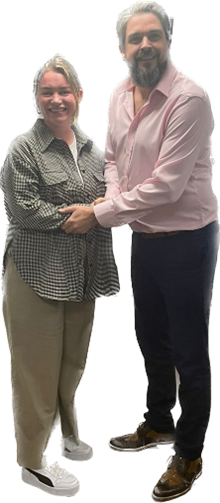 Led by Head and Heart – Ash Wonnacott, Operations Manager
Ash is the beating heart of the Situ team. As Situ has grown so has Ash… Moving on from the position of accommodation expert into leading three teams in the role of being our Operations Manager. Nothing is too much trouble for Ash! With his passion for putting clients, customers, guests and Situ team members first he makes everyone feel special, supported and valued.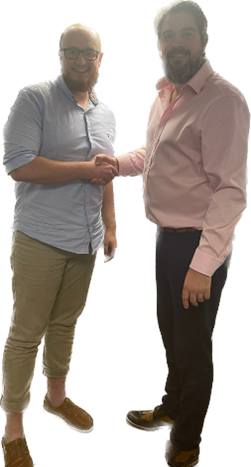 Enterprising Souls – Mostyn Sherlock, Senior .NET Developer
Mostyn's determination and data-driven mindset has revolutionised how our internal booking system generates reports and data in a user-friendly way. "How can I make our systems and processes simple and effortless" is his constant mantra.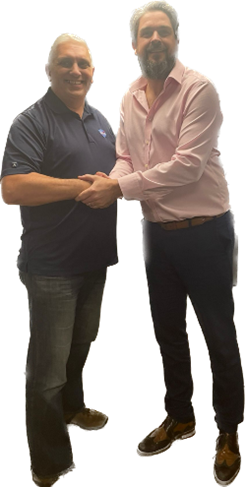 ---
There you have it: a few ways we say thank you and recognise our wonderful Situ team members. We really believe that a meaningful thank you and well done is the right thing to do and, when done well, can make an individual (or team) feel valued and very connected to the company.