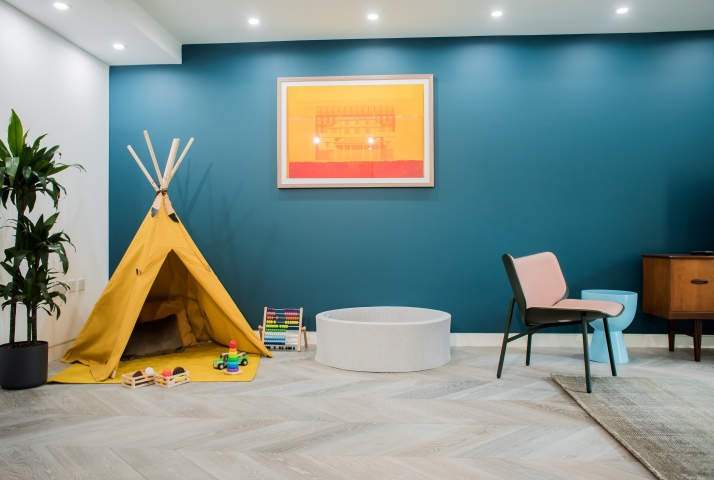 Following the aspirations of co-founders Charlie and Fabienne, both also travel enthusiasts, Cuckooz was established in East London in 2016. The company boasts a stock of beautiful, original serviced apartments across an array of London's most popular neighbourhoods.
Since, the brand has only grown. The company commits to an ethos of wanting to create homes away from homes which also embrace the local community. Within this philosophy was the launch of Cuckooz Nest, London's first fully flexible co-working space and Ofsted-registered nursery.
Then followed the launch of their first family-friendly apartment which is the focus of this week's blog. The Old Street Apartment is truly one-of-a-kind. It offers an exclusive experience for corporate guests, actually capable of enabling simultaneous childcare and business travel. It certainly acts as a catalyst for much-needed change in the ways parents can travel and reside.
We have a chat with Cuckooz about this exclusive property, as well as how it matches the company's ethos and other launches.
Why do you think family-friendly apartments are so important for the corporate travel industry?
"We believe that a shift has taken place in recent years in the world of corporate travel. A recent surge in the number of growing, successful start-up businesses has led to a growing need (and desire) for employees to take a flexible approach to work. We see a high proportion of our guests travelling from overseas on relocation posts. Several of whom are also travelling with family."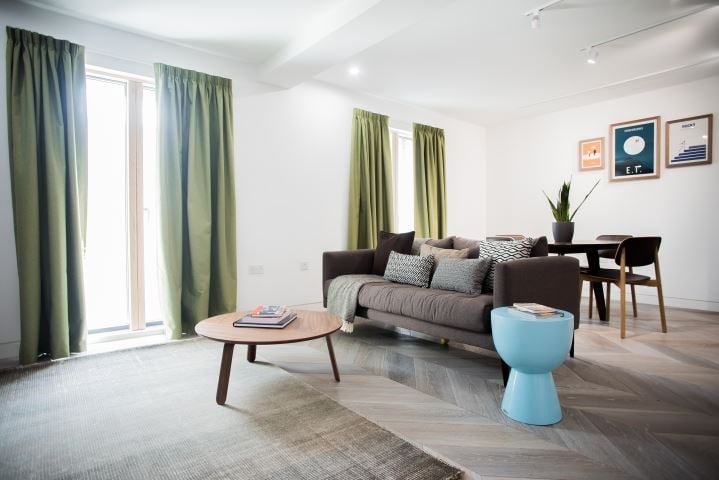 "Whilst a serviced apartment model might be desirable for this particular guest profile (more space, cooking facilities and greater flexibility in terms of length of stay), we were surprised to learn that there aren't actually any London based providers specifically catering to families.
"From personal experience, we know the greatest hassle when travelling with small children is having to either pack an enormous plethora of equipment or pay an extortionate fee for add-ons such as travel cots or high chairs."
"Relocating to a new city can be a stressful and disorientating time. Therefore, we created a concept which allows families to feel settled from the moment they step through the door."
What amenities does this apartment include in order to cater for business travelling families?
"We created the apartment in collaboration with children's lifestyle specialists The Modern Nursery. We have made sure it has everything new families need , which includes; a cot for under two's and children's bed for under five's, clean linen, nappy changing station, baby bath and booster step, cruelty-free children's bathroom amenities by Jackson & Willow, a high chair, stroller (available for free upon request), cutlery and tableware, a ball pit, playmat, tepee and educational books. Toys recommended by our childcare professionals at Cuckooz Nest are also included."
"Our nursery room has been painted a soothing denim blue too, and colourful artwork has been curated by designer Bryony Rosier. The children truly have a space of their own."
Why have you chosen to base the family-friendly apartment on Old Street?
"Of all our neighbourhoods, we felt that Old Street was the best location for our family-friendly apartment concept. Nestled away on the quiet residential Pitfield St, parents needn't worry about loud street noises. The apartments are a stone's throw from many of London's green parks (including three within five-minute proximity). The beautiful Regent's Canal is also less than a ten-minute walk away."
"For the high percentage of our guests working within the tech and design industries, Silicon Roundabout is a five-minute walk away, with additionally excellent inner-city transport links. Parents can, therefore, spend less time on the dreaded commute and more time together as a family."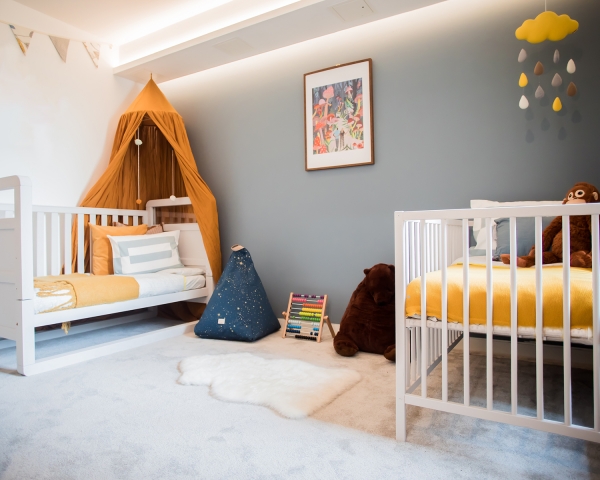 Explain how the launch of hybrid workspace, 'Cuckooz Nest', could prove to be the future for simultaneous corporate travel and childcare.
"Cuckooz Nest is London's first fully flexible co-working space with creche facilities for under two's. As our co-founder Charlie soon discovered after the birth of her daughter, juggling childcare with a career can be incredibly straining. Throw the rising cost of London childcare into the mix, and you quickly understand how many parents are struggling to strike a balance."
"By creating a dynamic and flexible space which allows parents to book in for as much or as little time as they need (with or without childcare), Cuckooz Nest is a real solution. It intends to liberate and empower hundreds of working parents, to regain the balance between work and life. Our plan to launch an integrated, hybrid space, really is the next natural progression."
"As more families take a flexible approach to work (and living), we see this as the future of hospitality. Families and freelancers can co-exist and also have all their needs accommodated. All in a relaxed and friendly environment, led by knowledgeable experts."
To find out more about the fantastic Old Street Serviced Apartment as well as SITU's range of amazing serviced accommodation across the capital, give a member of the SITU team a call. Or you can also visit our website, www.staysitu.com.