What fantastic timing! Just as we launch our 'Be More Starfish' Environmental, Social and Governance (ESG) programme based on the starfish parable* that says, 'everyone can make a difference'. We are over the moon to have achieved silver status from universal sustainability rating provider EcoVadis.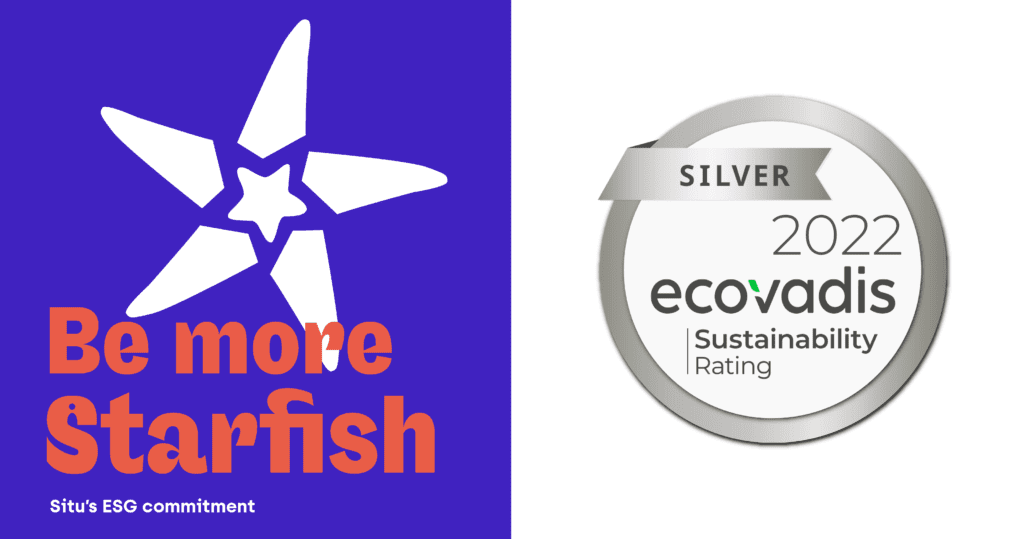 We have become one of many tens of thousands of companies that partner with EcoVadis to collaborate on sustainability. Using a common platform, universal scorecard, benchmarks, and performance improvement tools. Like all companies, we were reviewed across a number of areas that are key to meeting sustainable targets. Including the environment, labour and human rights, ethics, and sustainable procurement impacts. Our report from EcoVadis says that we performed well across all areas. But in particular, regarding our approach to environmental practices. They highlighted our commitment to the United Nations Global Compact (UNGC) and the way that we take time to educate and train all our staff on environmental best practices. Thanks to our very own sustainability queen – Jody Kennard for all her hard work in this area. 
Our MD Phil is passionate about all this stuff and has been on a mission for quite some years now. Looking at ways to put in place changes across our business that are right for the environment, our people, suppliers, clients, and partners.  
We want to be a genuinely good business and one that is good to do business with. Achieving silver status from such a trusted global assessor as EcoVadis shows that we are moving in the right direction. Of course, there is always more to be done… And that's why we have launched our 'Be More Starfish' programme which has at its heart the premise that everyone needs to do their bit, and small changes can add up to bigger changes."   
To that end and as one small example, Saturday 23 July will see the Situ team carrying out a beach clean in Teignmouth, South Devon. Giving everyone the chance to 'Be More Starfish' together! Anyone want to join us? 
Once upon a time, a wise man was walking on a beach that was littered with hundreds of starfish. He came across a young man who was picking the starfish up one by one and throwing them back into the sea.

"Why are you throwing starfish into the ocean?" asked the man

"The sun is up and the tide is going out. And if I don't throw them in they'll die," replied the young man.

"But young man, don't you realize that there are miles and miles of beach and starfish all along it. You can't possibly make a difference!"

The young man listened politely. Then bent down, picked up another starfish and threw it into the sea, past the breaking waves. "It made a difference for that one!"

Adapted from The Star Thrower, By Loren Eiseley (1909-1977)