Yes, we are serviced accommodation providers. Yes, we are all about business stays. But here's the cherry on the top! We have a large range of quirky serviced accommodations in the UK too. So why not stay at a more memorable place for a different experience?
If you want your serviced accommodation destination to be a bit more unique, make sure you check out our really cool and quirky stays available to book with Situ.
'Oscar" Railway Carriage – Cloughton
This brilliantly converted railway carriage was built in Derby in 1960. It still stands on the original line of what used to be Cloughton Station, ideal for people looking for an unusual stay. It may not look like it in photos, but the carriage really is spacious and has all the facilities needed for a comfortable stay.
What can I do in Cloughton? You may ask. Cloughton is in a great location, and it's only six miles from Scarborough. If you enjoy long walks, or just want to view some of the most beautiful places around – don't miss out on visiting the North Yorkshire coast and North York Moors. But that isn't all, you can also visit some pretty amazing places around National Trust and Heritage sites.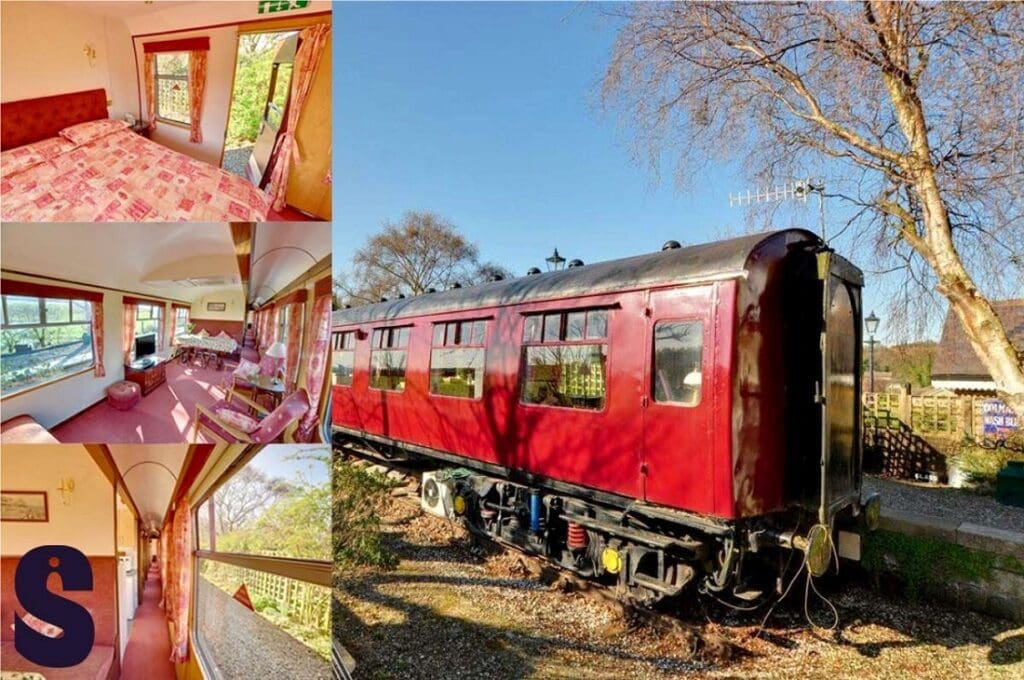 Ready to book your quirky serviced accommodations in the UK, something a bit unique and different? For some more info, or to view more photos click here.
Wagon & the Wigwam – Medstead
Need a break in the countryside? The Wagon and the Wigman is a stunning and cosy place in Medstead. Here you can relax in the sunken hot tub under a teepee(complete with an en-suite toilet for your own comfort) whilst seeing some incredible wildlife.
Make sure you keep an eye out for the deers in the fields, barn owls hunting, hares jumping around, and native orchids (summertime) in the wildflower meadows. The suppliers actively encourage bees, birds, butterflies and other wildlife in the big garden.
What to do in Medstead? This village may not be as popular as other cities in the UK, but don't let that fool you. Meadstead is small but it has some great places worth a visit. You will be surprised by some of the cool things to do and places to explore at this hidden destination. Go on nature walks, visit some of the great bars and restaurants. If you love reading – here's a thought. Go on a little day trip (25 minutes drive) to Hampshire to visit Jane Austen's House! This is a fantastic museum where the famous author lived and wrote.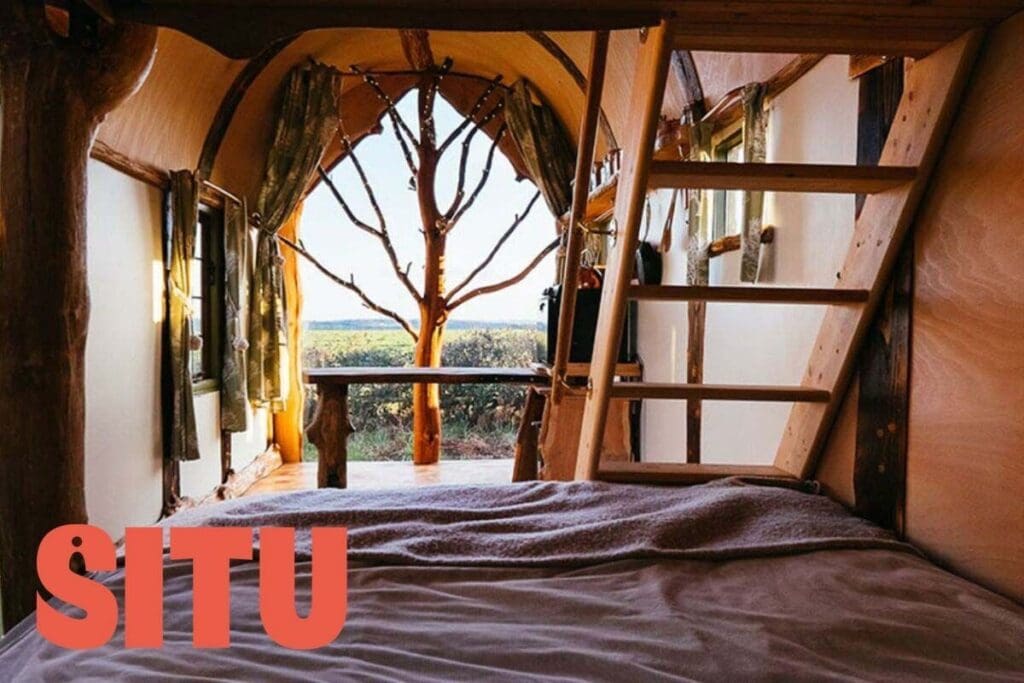 This looks so dreamy, a 'quiet and peaceful' stay, right? To view some more photos, click here. For more information on how to book just head over to our website, the Situ team are always happy to help with any enquiries.
The Horse Hut – Medstead
Here we have something you are going to love! At Hattingley valley vista you can enjoy the stunning view from the verandah or lotus spa with a drink in your hand, and just take a moment to appreciate the peaceful wonderful landscape.
Why is this serviced acommodation called The Horse Hut? The name kind of says it all, doesn't it? It was once mounted on the back of a lorry and used for Polo and Shire horse shows. It has been converted to a luxury serviced accommodation, but it still maintains its horsey heritage!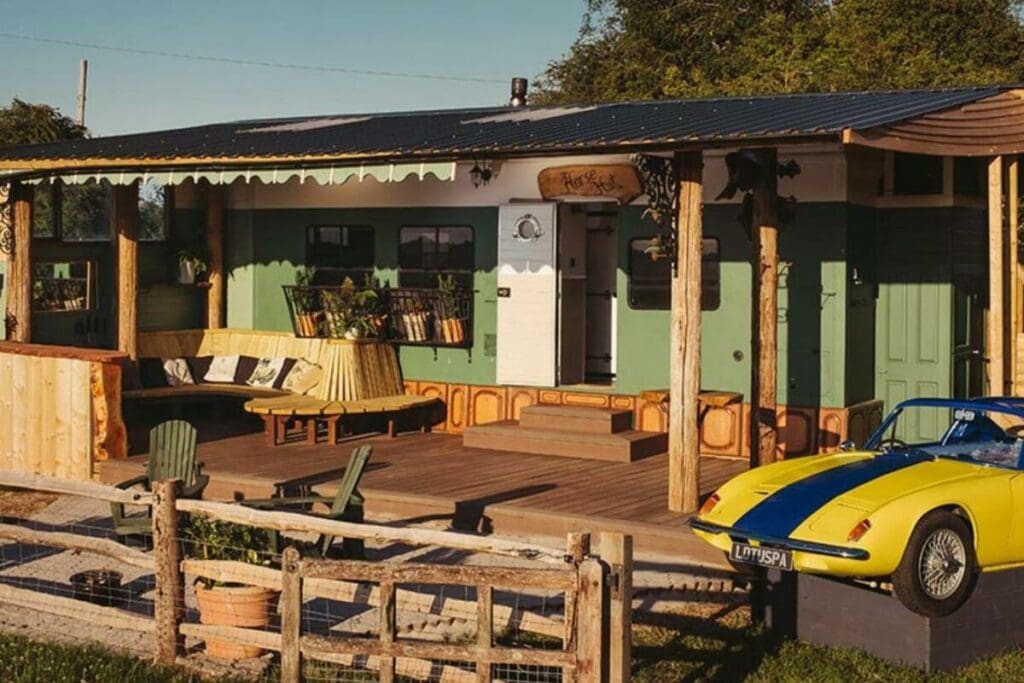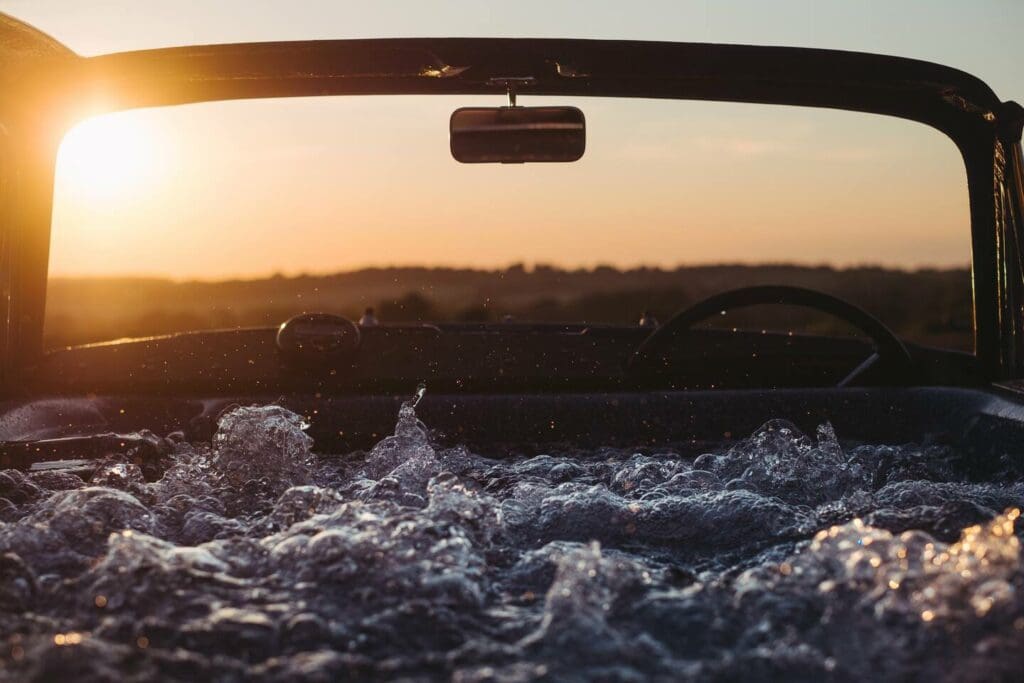 This looks like the perfect relaxing getaway, right? Find more photos here!
Bluebird Penthouse – High Bickington
Discover this beauty of vintage interior 1950s caravan, it comes with everything you need and is spacious and luxurious! Find this hidden gem in the Devonshire countryside, surrounded by incredible views of the Taw Valley.
To make this magnificent stay even more special, here you can enjoy a dip in the Land Rover hot tub. Our supplier cares deeply about the environment, so the hot tub is even powered entirely using an eco-friendly biomass boiler.
Where is High Bickington? This village lies on the B3217 road, around 6 miles east of Great Torridge, which makes it perfect if you are looking for a quiet place close to Torridge. After all, don't we all sometimes need a quiet place to relax?
The village offers stunning scenery to explore by foot or bike, quaint restaurants and bars, golfing, and many more activities. Or, here's an idea, why not go for a drive to view some other towns close by such as Barnstable, Bideford, and South Moulton?
---
Good accommodation is a key to an enjoyable visit when going on a business trip, to book any of these stays please get in touch with a member of the Situ team by either calling 01392 690 079 or emailing [email protected].
Still haven't found what you are looking for? Have a browse our serviced apartments for the best combination of comfort and convenience.